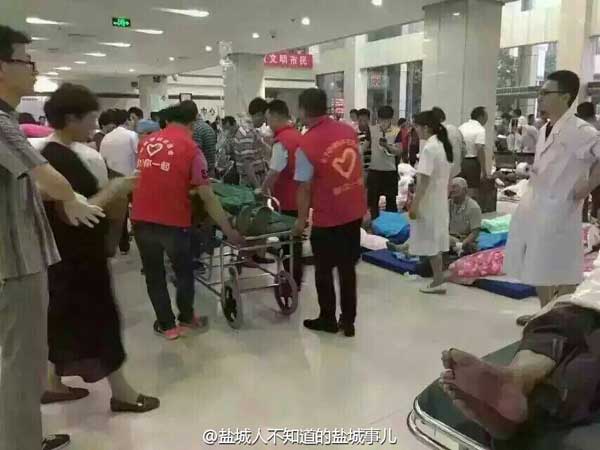 Volunteers help transport injured people at Funing People's Hospital on Thursday night. [Photo/Sina Weibo]
After a deadly tornado and hailstorms claimed nearly 100 lives at counties and villages in Yancheng, in East China's Jiangsu province, on Thursday, volunteers flocked to hospitals and a blood donation station to lend a helping hand.
Dai Wenjiang is one of the volunteers. He is taking care of an injured elderly woman in the People's Hospital of Funing County.
"Nothing is important compared with human life. Facing the most dreadful disaster in our town in decades, I do not mind stopping making money for two days," the middle-aged man said.
A blood donation station, which was set up near the hospital, was crowded with people who volunteered to donate their blood this morning.
"After I saw the news of the deadly tornado, I came here to do my bit to help those in need," one donor said.
Another donor said: "I could not sleep last night, anxiously waiting to donate my blood once the dawn breaks."
According to China Central Television, more than 15,000 millimeters of blood have been collected in just three hours in the blood donation station.