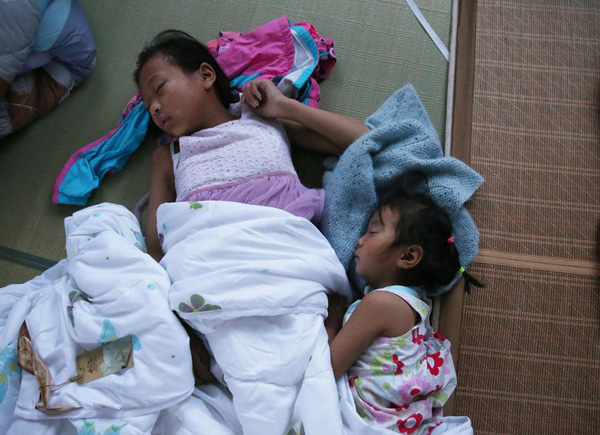 Two girls sleep at a temporary settlement in a primary school of Shuoji town, Funing county in Yancheng, Jiangsu province, on June 24, 2016. [Photo/Xinhua]
How it forms
Two strong air masses met over Yancheng city, said Han Guirong, an expert from the Meteorological Bureau of Jiangsu Province. The warm mass moved northwest and the cold moved southwest, with whirlwinds forming near the ground, he said.
Strong winds on the ground have fortified the whirlwinds to form the tornado, but it was a coincidence for the tornado, hailstorms and other severe weather conditions to happen at the same time there, Han said.
Why in Jiangsu
Jiangsu province has so many tornados because of its low-lying plain, many rivers and lakes, as well as its location at a transition zone of subtropical and warm temperate zones where severe weather conditions are more common.
Jiangsu has recorded the most tornados in China between 1961 and 2010. More than 20 take place every year in the province.
About 43 tornados on average happen annually across the country between 1991 and 2014, most in the afternoons in summer and early autumn.