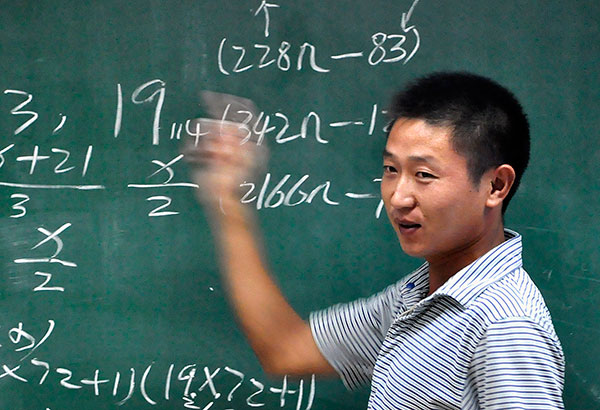 Yu Jianchun shares his calculations at Zhejiang University in June. ZHANG BINGQING/CHINA DAILY
A 33-year-old worker at a logistics company's packaging shop in Hangzhou, Zhejiang province, made headlines when he shared his calculations about number patterns with mathematics PhD candidates at Zhejiang University recently.
The worker, Yu Jianchun, is from mountainous Xinxian county in Henan province. He graduated from a technology training school in Zhengzhou, Henan province.
Although he had little higher education and was a migrant worker after graduation, Yu maintains his interest in mathematics and spends almost all of his spare time studying it.
Over time, he developed an interest in Carmichael numbers, a kind of pseudo-prime numbers that occur as positive integers about 255 times per 100 million. Yu came up with five formulas that Cai Tianxin, a math professor at Zhejiang University, found inspiring.
"I made my discoveries through intuition," Yu said. "I would write down what I thought when inspirations struck about the Carmichael. I have hard work and make a hard living, but I insist on my studies."
Yu was a migrant worker in many places, and everywhere he went, he would visit the math professors at the local university, hoping to get confirmation of his formulas.
Yu said he spent eight years developing the Carmichael formulas. He has reached out to academics through emails. Cai was the first to respond.
Cai found a formula proposed by Yu to be a more efficient way of identifying Carmichael numbers and invited him to share his thinking at the university with faculty members and doctoral and postdoctoral students in a class on June 13.
Six professors and advanced students in Zhejiang University's math department listened to Yu's lecture. Some of the experts considered Yu's idea to be a "novelty", while some said "his results have a certain depth".
Cai decided to include Yu's formula with his latest work in English, and he gave Yu a book to help the logistics worker in further study.