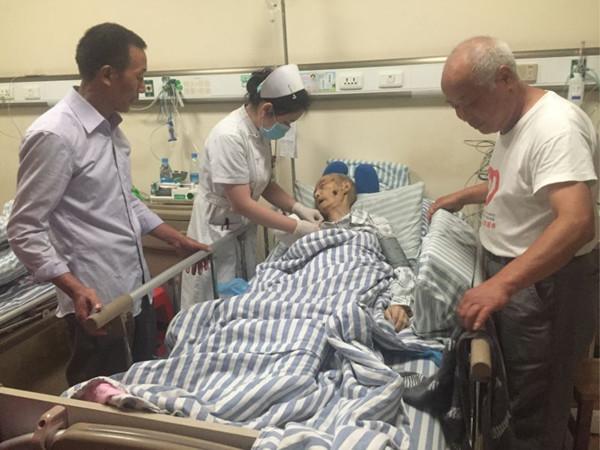 Jiang Guozhen passed away in hospital on June 15, 2016. [Photo/thepaper.cn]
A rural teacher who donated everything he had to help students in need died on Wednesday.
Jiang Guozhen was born in Jiangjia village in East China's Jiangxi province in 1930. He was a veteran and a government official before being assigned to work at a rural primary school in 1953 due to acute shortage of rural teachers.
During his 30 years of teaching career, Jiang donated more than 400,000 yuan ($60,720) to students facing financial problems. The sum included most of his salary, the pension, and money he earned from farming and scavenging.
When he died on Wednesday, only 1.36 yuan were left in his bank card.
With no offspring, Jiang led an extremely simple life. He usually ate only sweet potato and wore worn-out clothes. He did not even spend money on his run-down house - and the house later collapsed. After he was saved from the rubbles, Jiang moved into an elderly care home.
Because of his efforts to help students, Jiang was honored the Outstanding Communist Party Member and Most Beautiful Rural Teacher, and nominated for National Moral Model.
He was hospitalized in March for nasopharnyx cancer, a type of cancer that starts in the upper part of the throat behind the nose. In the hospital, he told the staff to stop giving him injections because they were too expensive.
On April 21, Jiang signed to donate his cornea to people in need. "I am a Party member. When the country needs me, I will devote my life to it," said Jiang on his death bed.