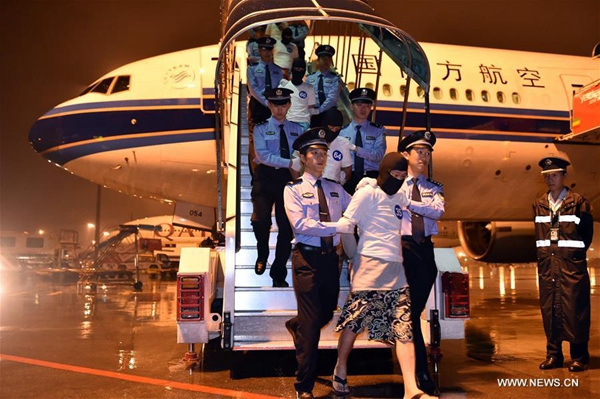 Suspected telecom fraudsters are escorted from an aircraft by police at Guangzhou Baiyun International Airport in Guangzhou, Guangdong province, on April 30. Ninety-seven suspects, including 32 people from Taiwan, were repatriated from Malaysia under the escort of Chinese police. The suspects were allegedly involved in more than 100 international telecom frauds in more than 20 areas of the Chinese mainland. [Liang Xu / Xinhua]
Telephone scams are a growing problem in China, with even financial experts falling prey to sophisticated schemes. For some victims, though, the consequences are far more severe than a simple monetary loss, as Zhang Yi reports.
Last month, Fan Yin-gui hanged himself in a residential building in Qin'an county, Gansu province. He left no suicide note, just a cryptic messages crawled in dust at the scene: "My death has nothing to do with my wife, it is about swindlers."
The day before Fan took his own life, the 44-year-old received a bogus phone call, supposedly from the police, which led him to transfer 230,000 yuan ($35,000) to a fake bank account set up under the name of the Supreme People's Procuratorate.
The money represented all of Fan's savings. The member of the logistics department at Xichuan Middle School in Qin'an had planned to use the funds to buy an apartment for his family.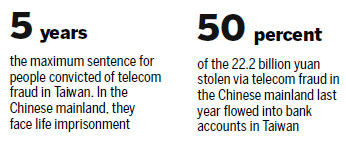 According to his wife, Feng Xiangxiang, Fan was told he was being targeted by the police in connection with a money-laundering case and he was threatened with arrest if he refused to cooperate with the investigation.
"On May 9, after a 60-minute discussion on the phone, he left home with his ID card and a bank card. He ignored me when I asked him where he was headed," Feng said. "When he returned home the next morning, he told me he had been swindled out of all our savings."
Fan's death was one of a series of suicides linked with telecom frauds that have attracted national attention since the beginning of the year.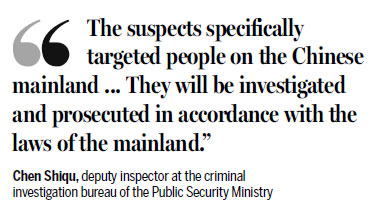 Rich pickings
Last year, a series of telecom frauds nationwide netted 22.2 billion yuan. Half the money flowed into bank accounts in Taiwan, and so far only a fraction of the total amount has been recovered, leaving many families destitute.
Even financial professionals are not immune to the fraudsters' ploys, which have resulted in large losses of government funds.
In April, police in Guizhou province broke up China's biggest single case of telecom fraud, in which 117 million yuan of public money was taken from the construction bureau of the Economic Development Zone in Duyun city.
The bureau's finance supervisor, surnamed Yang, was contacted by several callers who claimed either to be officers at a police station in the Songjiang district of Shanghai or staff at the headquarters of the Agricultural Bank of China. Yang was told the bank account she managed needed to be reviewed, and she was instructed to download software from a website that would provide the callers with access to the bureau's finances.
Fake calls such as these are not a novelty, but many people remain ignorant about the serious consequences of revealing information to unidentified callers.