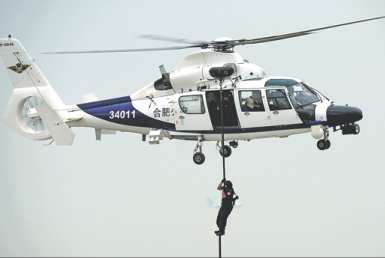 Members of a SWAT team rehearse landing from a AC312 police helicopter during an aviation exhibition in Tianjin last year. [Photo by Liu Yang/China Daily]
Ten helicopters are being bought for the police under the largest agreement of its kind in China, signed on Tuesday.
The Ministry of Public Security is buying the helicopters from Aviation Industry Corp of China. The first four-two AC311s and two AC312s-will be delivered to public security bureaus in Nanjing, Kunming, Hefei and Luoyang.
The purchase agreement was signed in Beijing by the two parties on the first day of the four-day Eighth China International Exhibition on Police Equipment.
Both sides declined to disclose when the entire contract will be fulfilled and the total cost, citing commercial confidentiality.
The 10 helicopters will be made by Harbin Aircraft Industry Group and Changhe Aircraft Industries Group, subsidiaries of AVIC Helicopter Co, according to a statement issued by AVIC Helicopter.
The statement said 50 helicopters are being used by 28 police aviation squads on the Chinese mainland. They have helped with tracking suspects, search-and-rescue work, in the crackdown on drug trafficking, counter terrorism operations and other law enforcement activities.
Liu Daolin, deputy director of the ministry's Police Aviation Management Office, said public security authorities aim to double the size of their helicopter fleets within five years.
The office estimates that by the end of 2020, there will be about 50 police helicopter squads with nearly 100 helicopters operating on the mainland.
Liu said less than 10 percent of mainland cities are now covered by police aviation squads, adding that more local police bureaus have begun to understand their importance and usefulness and have vowed to invest in them.
Yu Feng, president of AVIC Helicopter Co, said the police aviation force is continuing to expand and local police have gained "rich experience" in using helicopters.
"To satisfy the increasing police demand for helicopters, we have refitted several types of our civilian helicopters for public security tasks," he said. "They range from the light duty AC311 to the heavy lifting AC313, offering the police a wide variety of choices."
He said police bureaus in cities including Nanjing, Hefei, Tianjin, Jiaozuo, Kunming and Zigong have used helicopters made by the company.
The first police aviation team on the mainland was formed in 1994 when the Public Security Bureau in Wuhan, the capital of Hubei province, set up a helicopter squad.
Since then, police in several large cities, including Beijing, Shanghai and Guangzhou, have formed squads and often use helicopters for security patrols, search-and-rescue work and emergency response operations.