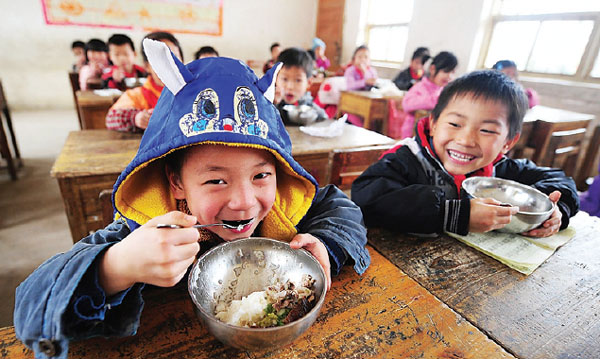 Students have free lunch at a classroom of a primary school in Mashan county, Guangxi Zhuang autonomous region. The Free Lunch for Children project has benefited 465 schools in poverty-stricken areas across China. Provided to China Daily
Chinese lawmakers approved the country's first charity law on Wednesday at the closing meeting of the annual session of the National People's Congress.
The law, which will come into force in September, was ratified by a vote of 2,636 to 131, with 83 abstentions.
The new law eases restrictions on the fund-raising and operational activities of charity groups, tightens supervision of their internal management and promises tax benefits for the sector.
The law has been hailed as a milestone in efforts to protect charitable organizations and stakeholders, including donors, volunteers and beneficiaries. It is seen as the fundamental law of China's philanthropy, aiming to promote philanthropic culture.
The law defines how charities should be registered, giving approved charities more freedom in their operations. Only a handful of charities are currently allowed to raise money from anyone, while others are restricted to specific groups of donors.
The law also responded to the common complaint that businesses making large donations do not get enough tax concessions. The government waived corporate income tax on donations made by companies from their profits, but this only applies to companies that donate 12 percent of their profits or less. The new law stipulates that if a company's donations exceed 12 percent of profits in one year, the balance can be deducted from taxable income over the following two years.
"This law is the fundamental and basic law in philanthropy, and lower-level legislation and regulations will be based on it," said Yang Tuan, a social policy researcher at the Chinese Academy of Social Sciences.
Previously, a reporter asked the legislators why they planned to review the final draft of the new charity law in preference to "more important" legislation.
"Philanthropy is not only giving money or goods. It also provides social services. The new charity law uses a broad definition of charity. Besides helping those in need, philanthropy includes education, culture, science, health, sports and environmental protection," said Jin Jinping, director of the Center for Nonprofit Organizations Law at Peking University.
She said that philanthropy plays a decisive role in establishing a modern and civilized society.
"Philanthropy is a lifestyle and can be done by anyone. It is not only the privilege of the so-called successful or wealthy. All people are equal in regard to philanthropy," she said.
Contact the writer at luowangshu@chinadaily.com.cn