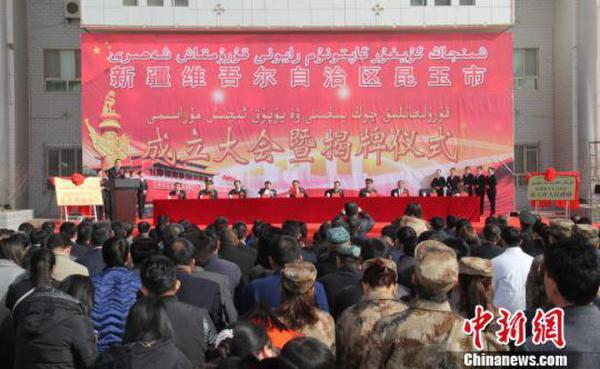 Kunyu, the newest city in China, was officially established in Hotan prefecture on Feb 26, 2016. [Photo/chinanews.com]
Kunyu has become the newest city in the Xinjiang Uygur autonomous region.
The city was officially established in Hotan prefecture on Feb 26 and is expected to play a strategic role in maintaining social stability in the region.
Kunyu is the administrative headquarters of the 14th division of the Xinjiang Production and Construction Corps, founded more than 60 years ago, serves as a stabilizing force in Xinjiang, which faces the constant threat of terrorism.
The corps is known for building large-scale modern agriculture enterprises and training local militia in desert and border areas. It is a provincial-level organization that handles all administrative and judicial affairs in areas under its administration.
On Saturday, Sun Jinlong, 54, was appointed the corps' new Party chief. Previously, he was deputy Party head of Hunan province.
Kunyu covers an area of more than 687 square kilometers. It is now the second-largest city in Hotan prefecture, after Hotan city, which is 78 km away.
The State Council, China's highest executive body, approved the application to make Kunyu a county-level city on Jan 7, as part of efforts to implement the central government's decision to support the corps' development in southern Xinjiang.
The corps is working on transforming the headquarters of its 14 divisions into cities so they can better contribute to local social stability and development. So far, the company has created nine new cities.