The central government foresees no major changes in its Taiwan policy after the island's recent leadership elections, according to An Fengshan, spokesman for the State Council's Taiwan Affairs Office.
An made the comment on Wednesday as negotiators from both sides of the Taiwan Straits continued to communicate about their next face-to-face meeting.
"No matter the party or group, no matter what they have advocated in the past, as long as they are willing to recognize the 1992 Consensus and acknowledge the fact that both the Chinese mainland and Taiwan belong to one and the same China, we are willing to engage with them," An said.
He said that since 2014, the office and Taiwan's cross-Straits affairs department have established a communication mechanism that has been playing a positive role in promoting positive relations.
An said the face-to-face meeting between department heads is an essential part of the mechanism, but did not say whether a meeting would take place before May 20, when the island's newly elected leader Tsai Ing-wen is expected to take office.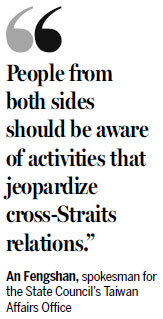 A member of Taiwan's pro-independence Democratic Progressive Party, Tsai won the island's leadership election in January, beating rival Eric Chu of the Kuomintang.
"Our fundamental policies toward Taiwan have always been clear and consistent," An said, adding that mainland authorities would continue to promote the peaceful development of ties across the Taiwan Straits and protect peace and stability in the region on the basis of the 1992 Consensus and opposition to Taiwan independence.
He condemned some members from the DPP who recently suggested that Taiwan should no longer hang portraits of Sun Yat-sen on public occasions.
"Mr Sun Yat-sen spent his life pursuing national unity and revitalization. He was admired by all Chinese people," An said. "People from both sides should be aware of activities that jeopardize cross-Straits relations."
He also condemned former Taiwan leader Lee Teng-hui's views on politics in his new book, saying Lee has been against people from both sides by preaching the independence of Taiwan.
"We resolutely oppose all forms of secessionist activities and will take measures to safeguard China's sovereign and territorial integrity," An said.
Xinhua contributed to this story.