In one of those startling feats of memory, I can vividly recall the first time I encountered China, in the shape of a plate of sauteed beef with bamboo shoots and water chestnuts. I was 17, had my first paycheck in my pocket, and was determined to sample what exotic delights provincial Oxford could offer, which, to be honest, wasn't much.
Remember, this was a time in the 1960s when there was no Internet (yes, children, it's true), no mobile phones, television was limited to six hours a day, and most people's view of the world was based on what they'd learned at school, coupled with, in my case, the foreign news pages of the UK press.
I think I can date my growing fascination with the huge, sprawling country that has the frozen temperatures of the northeast on one hand, and the near tropical climes of Hainan province in the south, from that plate of beef with bamboo shoots and water chestnuts.
For the record, I loved it. But a quick check here with my Chinese colleagues showed that what I was eating that day was a hybrid dish aimed at foreigners.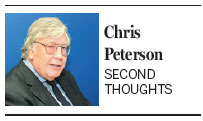 How times have changed. A quick check on how many Chinese restaurants there are in the Greater London area shows 4,000 restaurants and 8,000 Chinese fast-food outlets.
OK, so much of what they serve is tailored for what they perceive is the Western palate, but I cite the statistics as one way of showing how much influence Chinese culture has in the UK now.
You don't have to look too far for other signs of Chinese influence.
Take the way Spring Festival, or Chinese New Year, is celebrated. Obviously, it doesn't come anywhere near the organized anarchy that is travel in China at the beginning and end of the holiday, but there are dances, displays, special menus in restaurants, promotions in department stores, and advice on how it all works.
Increasingly, children - certainly in my family - open their red envelopes of "lucky money" with great anticipation. And here I have to make an admission. My colleagues here at China Daily, both in Beijing and London, are avid users of the social messaging app WeChat. This past week, I was introduced to the system of sending a digital "red envelope" and am proud to share with you, dear readers, the fact that I accumulated the staggering sum of 15.51 yuan ($2.38). Not sure what that buys you in Beijing right now but I'll let you know.
Traditional Chinese medicine is another area which has long fascinated Britons, particularly acupuncture. In the last few years, virtually every town center has had a traditional Chinese medicine outlet - in the UK, there are now an estimated 3,000 licensed practitioners.
Indeed, acupuncture is now recognized as an acceptable method of pain relief offered by Britain's state-run National Health Service. I have tried it myself.
In other words, if you can get it on the NHS, you've arrived.
It was France's General Charles de Gaulle who once lamented: "How can I govern a country that has over 300 different types of cheese?"
I'll bet China's masters over the centuries have entertained similar thoughts.