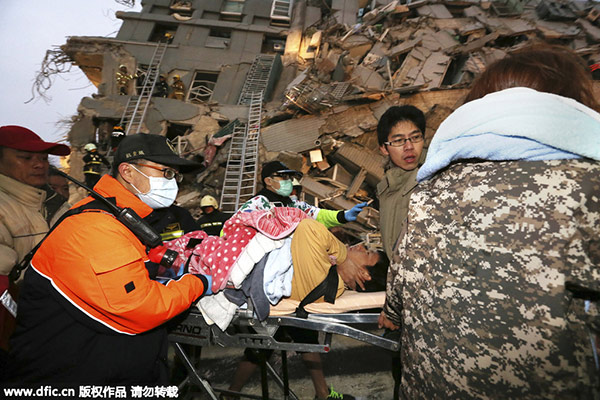 Rescue workers carry a man from the site of a toppled building in Tainan after an earthquake measuring 6.7 magnitude jolted Taiwan at 3:57 am on Feb 6, 2016 [Photo/IC]
More than 600 rescuers, including fire fighters and volunteers, as well as 105 fire engines and 44 ambulances have been involved in the rescue.
They combed through the ruins, some using their hands, watched anxiously by dozens of the victims' family members who wore thick jackets, woollen hats and scarves to combat the winter chill.
Medical staff with empty gurneys waited nearby.
"She's not answering my phone calls ... I am trying to hold my emotions and stay strong. I'll do that until I find her," said a woman surnamed Chang, 42, waiting to hear from her 24-year-old daughter who lived on the fifth floor of the complex.
Previous reports said more than 460 people were injured.
In the historic city of Tainan, eight buildings collapsed and another five were damaged.