I will unfurl myself from the fetal position under the blankets in my apartment in frigid Beijing today and say to myself, "global warming, wha'?"
Then, I will cast the unfrozen parts of my mind to a far warmer place - the land of my birth, Australia - and the fact that my compatriots will be celebrating the country's national day, which is imaginatively called Australia Day, in brilliant sunshine.
Jan 26 marks the date in 1788 when Captain Arthur Phillip, a reluctant group of British troops and an even less happy-to-travel collection of convicts set foot on Terra Australis and promptly said, "What the .... was that?" as a kangaroo hopped by.
But I'm pretty sure my old mates won't be dwelling too much on history today, nah. There will be a backyard gathering; the barbie will be fired up and snags, chops and shrimps will be tossed on a fiery grill while tinnies are cracked and the Sheilas get stuck into the chardonnay.
The blokes will talk a great game of sport and maybe even play some backyard cricket while the missuses mock them mercilessly and take another swig.
It's all good fun, but also a quite meaningless holiday in a way, too.
The indigenous population Down Under, the Aboriginals, dubbed it "Invasion Day" and later "Survival Day" as their ancient culture was pretty much decimated by "whitey".
And the newer waves of immigrants to those sunny shores probably couldn't give a damn.
Still, over the past four decades, Australia has become more inclusionary and evolved from a European boil on the bum of Asia to a truly multicultural society.
Aussie jingoism is not dead, but it is rather sickly nowadays and nowhere is that more evident than the Great Southern Land's relationship with China.
Of residents of Australia born outside of that country, China comes in third with 447,400, according to 2014 Australian Bureau of Statistics numbers (behind the UK, 1.22 million, and New Zealand, 617,000).
Last year, Chinese tourists' spending in Australia topped the charts at 22 percent - or A$5.7 billion ($3.99 billion), says tourism agency Tourism Australia, and mainland companies have become huge investors in corporate entities and the mining sector over the past decade.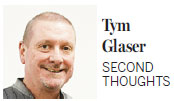 The historic free trade agreement formally signed by the countries last year will only see those numbers increase.
Of course, Oz still has a long way to go to be fully embraced by Asian nations.
Old ties die hard; the bond with the Commonwealth remains strong and its links with the United States even more solid; Diggers and Yanks have fought side by side in every war and "police action" since the First World War and the Australian mantra is, "you don't let a mate down".
That puts a unique country in a unique place in the world of Pacific politics.
Ah well, enough of that now, it's a holiday. When I get home from work tonight I'm gonna flip the top on a Cooper's Sparkling and sizzle some shrimps before assuming the fetal position again.
Cheers.