Where did it all go wrong? That's what room-service waiters would ask George Best when they saw him drinking Champagne with the latest Miss World.
But something had gone wrong and it led to his death at just 59 in 2005. Fifty years ago Best was entering his prime, but his career and life were cut short by wayward living, alcohol abuse, shattered relationships, violence and jail time. His demons chased him more than defenders ever could.
For at least two years, 1966-68, George Best was by name and nature the best soccer player in the world. Pele lost his panache after being kicked black and blue in the 1966 World Cup and did not regain form until 1969. Johan Cruyff was still emerging as a Dutch master. No one else was close.
He was an icon of an age, the Sixties, that was full of them. The dead Kennedys, Che, Jagger, Cher, Twiggy, John, Paul, George and Ringo. The "Fifth Beatle" came to prominence at the dawn of the jet-travel age. Just as Northern Ireland was bubbling with unrest, there was an Irish wizard winning standing ovations just before 5 pm every Saturday in England. And all the time the sense of a fleeting moment.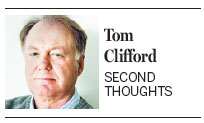 Young and the reckless, he indulged a lifestyle that did not take tomorrow into account.
To hell with wiser counsel telling you to calm down, to hell with players of a lesser calling telling you to spare yourself so that you could burn longer but dimmer. Fast cars and fast women, and the night was for clubbing, not sleeping. Best doing something in moderation? A contradiction.
One humid London night in May 1968, Best produced not a performance but an extravaganza that helped Manchester United capture their holy grail, the European Cup. He was a dashing Lancelot smiting the dragons of tactical caution. Best scored a superb goal on that glorious night and he later claimed that after rounding the Benfica goalkeeper and seeing the empty net, he wanted to stop the ball on the goal line, lie down and head it in. He changed his mind when he realized defenders were catching up.
That was the peak before he started the steep descent into the high life of clubs and quick money.
Best developed a dependence on alcohol. Drink played havoc with his health and relationships, and the media were not for turning a blind eye. Best was fair game and sold papers.
He was a genius, like Oscar Wilde, another Irishman who was less than discreet. For both men, pursuing the audacious was commonplace. We knew it was a privilege to see him play, red shirt out, ball at his feet, toying, teasing, darting, winking. He gave us so much pleasure but it hurt to see how little joy he derived from our applause.
But that night in May 1968, the year of protest in Europe, it seemed for one brief, shining moment, there was Camelot. We should have known it could not last.