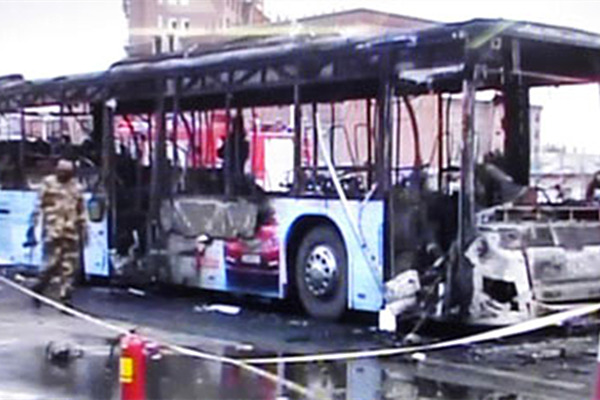 At least 14 people were killed and 32 injured after a bus caught fire in Yinchuan, northwest China's Ningxia Hui autonomous region, on Tuesday. [Photo/Weibo]
Police arrested a suspected arsonist as the death toll from a bus fire in Northwest China on Tuesday rose to 17, with three more bodies found at the scene, an official said.
Eight males and nine females lost their lives in the incident.
All 32 injured, aged between 20 and 65, were being treated at Ningxia Medical University General Hospital in Yinchuan, capital of the Ningxia Hui autonomous region, according to MaKai, the deputy mayor of Yinchuan.
Police arrested the suspect, Ma Yongping, in a building under construction in Helan county, Yinchuan, at 4:30 pm. His trousers were burned.
The authorities said the 40-year-old man was helping the police investigation.
Jia Shaobing, deputy president of the hospital, said one of the injured was in a critical condition and five were in a serious condition. The others were stable.
The incident happened at about 7 am in Helan county when the bus caught fire in front of a furniture store.
Passenger Hu Yuexiang, 26, said, "I was sitting in the front of the bus when people suddenly started screaming 'Fire! The bus is on fire!' When I turned around, the flames were racing toward me, and before I knew it my shoes were on fire."
He said the passengers rushed toward the front door, pleading with the driver to open it.
"I thought the bus was about to explode and I was going to die. Then the door opened and we all rushed out," Hu said.
Photos on Sina Weibo showed the bus engulfed by flames.
Another passenger, Wang Yongfeng, suffered minor burns to his hands, which were swollen and covered in blisters. "When I boarded the bus, all the seats were taken and many people were standing," Wang said.
The bus driver sustained minor burns. About 40 people were traveling on the 84-seater vehicle when it caught fire.
The bus, which was en route to Yinchuan Railway Station, was owned by Yinchuan Public Transport Co. The State-owned firm began safety checks on all its vehicles after the incident.