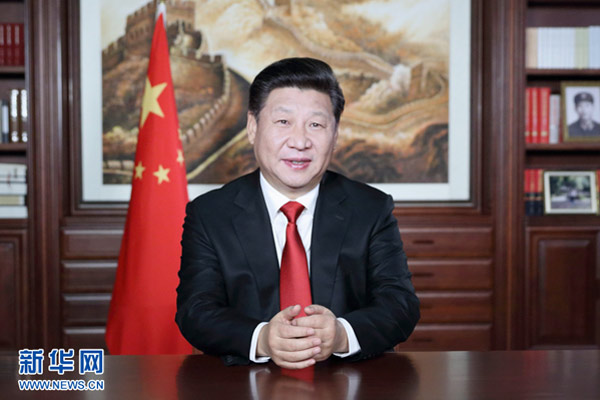 Chinese President Xi Jinping delivers his New Year speech in Beijing, Dec 31, 2015. [Photo/Xinhua]
Netizens share details of weighty tomes and framed photos spotted in president's office
From modern literature to history and international politics-President Xi Jinping may have inspired Chinese readers to turn a new leaf after his "reading list" went viral online over the weekend.
The list was produced by netizens and some Chinese media after the president's annual new year address from his office in Beijing was broadcast on Thursday night.
Close-up shots of the bookshelves behind him were taken from footage aired on China Central Television and shared on social media to show the titles and authors' names.
According to the images, the president has a wide spectrum of interests, ranging from classic Chinese literature, contemporary literature, science, history and international politics.
A Chinese blogger writing under the name Ingoman reposted the list with the comment: "Let's follow President Xi and read."
On the shelves were classics such as the complete works of Chinese master Lu Xun, writings by Lao She, and The Lessons of History by historians Will and Ariel Durant.
More recent works included the Chinese-language edition of World Order by former US secretary of state Henry Kissinger, which was published in 2015. Also noticeable was a set of science books published by Peking University Press, including Geometry by French philosopher and mathematician Rene Descartes.
Details on the books have attracted considerable attention on social media, and come at a time when Chinese scholars and officials are calling for people to read books more regularly.
Zhu Debin, director of global and area studies for the Social Sciences Academic Press in Beijing, said the interest in Xi's reading habits "reflects the demand among Chinese citizens for a deeper understanding of traditional culture, modern China, and the world they live in".
In addition to the book list, another highlight to come from the presidential speech is that five of the framed photos on his bookshelves last time had been replaced with seven new pictures. Among them, three were related to Xi's visits to rural areas and his interaction with farmers.
The other two pictures showed the president delivering speeches at international events: one at the V-Day parade in Tian'anmen Square on Sept 3, and the other at the United Nations General Assembly in New York later that month.