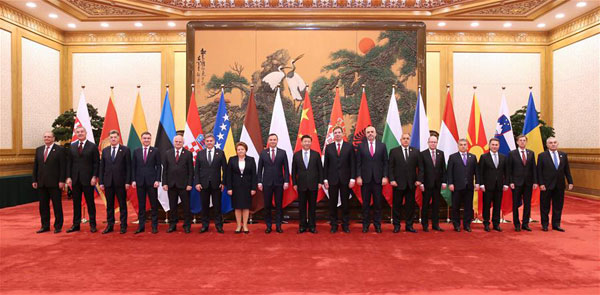 Chinese President Xi Jinping (9th L) poses for a group photo with leaders attending the 4th Summit of China and Central and Eastern European (CEE) countries, in Beijing, capital of China, Nov. 26, 2015. [Xinhua/Pang Xinglei]
BEIJING -- China signed a memorandum to promote the Belt and Road Initiative with five central and eastern European (CEE) countries on Thursday.
The agreement was made after Chinese President Xi Jinping met with leaders from Poland, Serbia, Czech, Bulgaria and Slovakia and other CEE countries who just attended an economic and trade forum in east China's Suzhou City.
The framework of China-CEE cooperation, also known as the "16+1" mechanism, has established a new platform covering all-round, extensive and multi-dimensional cooperation fields, Xi pointed out.
China expects the participation of CEE countries in the development of the connectivity-based Belt and Road Initiative, and will support the integration of Europe and improve the Sino-Europe comprehensive strategic partnership relations, Xi said.
Meanwhile, China will support the integration of "16+1" mechanism with the respective growth demands of CEE countries to better serve their interests with concrete projects, Xi added.
China is willing to cooperate with CEE countries to help solve the refugee crisis, according to Xi.
Hailing the long-standing bilateral friendship, Polish President Andrzej Duda and other leaders of CEE countries pointed out the "16+1" mechanism has set up a new platform for both parties which are experiencing economic transformation.
CEE countries are willing to participate in the development of the Belt and Road Initiative and look forward to more cooperation with China in industrial modernization, energy conservancy and environmental protection, transportation and logistics, infrastructure and other fields.