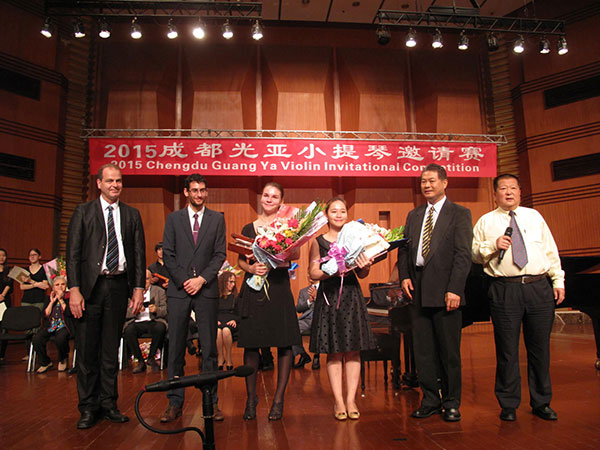 Olga Roubkova, third left, from the Czech Republic and Dang Lihua, third right, from China shared first prize. [Photo by Huang Zhiling]
Female musicians from the Czech Republic and China shared first prize at the 2015 Chengdu Guangya Violin Invitational Competition.
The contest, at the Music Hall of the Sichuan Conservatory of Music in Chengdu, capital of Southwest China's Sichuan province, ended on Wednesday.
Sponsored by the Sichuan Provincial Association for Friendship with Foreign Countries, Chengdu Municipal Federation of Literary and Art Circles, Sichuan Conservatory of Music and the Guangya School in Dujiangyan, Sichuan, the five-day competition attracted 26 entrants from the Chinese mainland, Taiwan, Germany, Japan, Poland, the Czech Republic and Israel.
After three rounds Olga Roubkova from the Czech Republic and Dang Lihua from the mainland shared first prize. Third prize went to Daichi Nakamura from Japan.
Members of the judging panel included musicians from China, the United States, Germany, Russia and Israel.