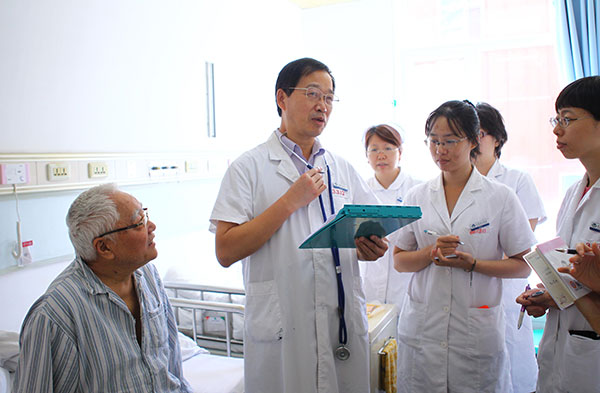 Yu Zhenqiu, director of the hypertension department at Anzhen Hospital in Beijing, visits a patient on a ward. Provided to China Daily
China's top hypertension experts are urging more intensive management of high blood pressure in a nation where 330 million people, an estimated one in four, are affected by the serious and often chronic illness.
Hypertension is a leading risk factor in strokes, heart disease, kidney failure and other health problems.
"We couldn't wait any longer for an overhaul in hypertension intervention," said Yu Zhenqiu, director of the hypertension department at Anzhen Hospital in Beijing.
More aggressive treatment of high blood pressure, below a commonly recommended blood pressure target of 140 millimeters of mercury, substantially reduced rates of cardiovascular disease and lowered the risk of death in a group of adults 50 years and older with high blood pressure, according to a landmark clinical trial sponsored by the US National Institutes of Health.
As in the United States, the well-established clinical guidelines in China recommend a systolic blood pressure of less than 140 for healthy adults in China.
But Yu had always thought a lower level was better. He sought a target of 130 for the patients he treated.
"At least half of the patients coming to me didn't have their blood pressure under good control," he said.
In the US study, called the Systolic Blood Pressure Intervention Trial, patient medication was adjusted to achieve a target systolic level of 120. The more intensive treatment reduced rates of cardiovascular problems - heart attack, heart failure and stroke - by nearly one-third and the risk of death by roughly 25 percent.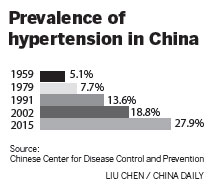 A systolic blood pressure of 120 could better help save lives among adults aged at least 50 who had a combination of high blood pressure and at least one additional risk factor for heart disease, the study found.
Starting in 2009, the trial involved 9,300 patients with hypertension at more than 100 US health institutions.
Gary H. Gibbons, director of the National Heart, Lung, and Blood Institute in the US, said the study provided potentially lifesaving information that would be useful to healthcare providers as they considered the best treatment options for their patients, particularly those aged 50 and older.
In China, there is an urgent need for a change of the target blood pressure, said Yu, who is also deputy director of the Chinese Rural Health Association.
Hypertension patients may get worse due to improper treatment guided by having a target blood pressure level of 140. The target "has been harming people's health", he said.
shanjuan@chinadaily.com.cn