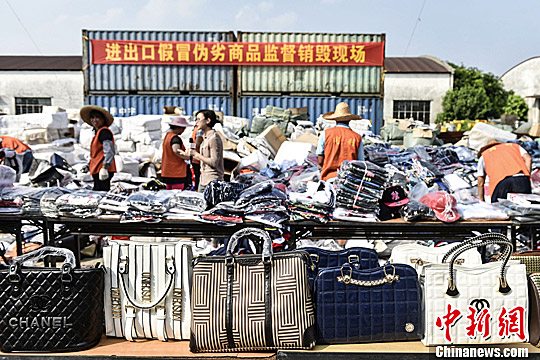 Fake designer goods wait to be destroyed in Guangdong province, Sept 25, 2015. [Photo/Chinanews.com]
Law enforcement authorities in Guangdong province destroyed 46,012 fake brand-name goods intended for export to Africa on Friday, in the fight against violations of intellectual property rights.
The goods, confiscated and stored since early last year by a subsidiary of the Guangdong Entry-Exit Inspection and Quarantine Bureau in Guangzhou's Huangpu district, include brands such as Hermes, Gucci, Levi's, Dior, Chanel, Burberry and Diesel, the bureau said on Friday.
The destroyed goods included 120 leather belts, 95 purses and wallets marked Hermes, 240 leather belts and 65 women's purses marked Gucci and 1,320 leather belts marked LV. The products were produced by a company in Harbin, Heilongjiang province, the authorities said.
Also destroyed on Friday were fake products of other brands, including more than 8,000 items of sportswear marked Nike and about 15,000 marked Adidas that were produced by a company in Zhuhai, Guangdong province, the authorities said.
"The products will be shredded so they cannot be sold," said Yu Jun, chief of supervision and inspection at Guangdong Entry-Exit Inspection and Quarantine Bureau.
"They will be properly recycled and may be made into some other goods, such as mops," Yu said.
The Huangpu bureau handled 37 cases involving exports of fake or substandard goods to Africa since the beginning of the year, and handed four of them to the judicial department, the bureau said.
The move on Friday is the latest by quality authorities in China to fight exports of such goods abroad.
Guangzhou, a major port with the largest number of African expats among Chinese cities, has close trade relations with Africa.
This year, the General Administration of Quality Supervision, Inspection and Quarantine will focus on improving supervision and inspection of exported Chinese products, especially those headed to Africa and western Asia.
In the first half of the year, the administration seized 4,010 shipments of substandard goods across China that were going to be exported to Africa, with a total value of $170 million, the administration said.
wangxiaodong@chinadaily.com.cn  Fake goods ring that netted 70m yuan is busted