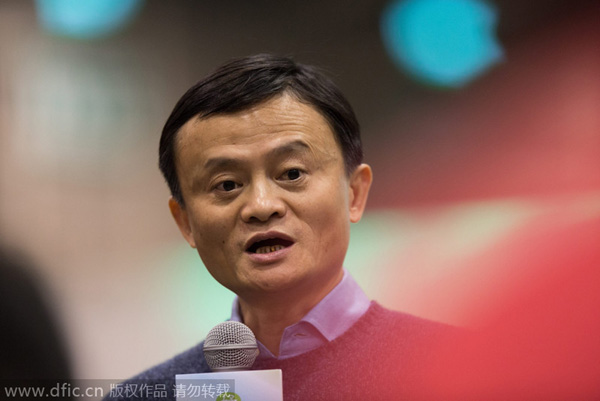 The founder and executive chairman of Alibaba Group Jack Ma, speaks to the media after a forum in Hong Kong, China, February 2, 2015. [Photo/IC]
Products sold through online shopping platforms will be a key target for quality inspectors this year, the national watchdog has revealed.
The announcement comes amid growing pressure from regulators on e-commerce giant Alibaba over concerns about counterfeit products.
The scrutiny of products sold through e-commerce platforms will focus on 11 categories, including air purifiers, kitchen goods, textile items and products for children, said Sun Huichuan, deputy chief of the quality supervision department under the General Administration of Quality Supervision, Inspection and Quarantine.
Sun said the authority will provide training sessions for manufacturers with e-commerce businesses to improve the quality of their products. It will also help online platforms to improve quality supervision during the merchandise purchasing process.
Problems with fake and poor-quality products sold online have attracted complaints from the public for years, and the authorities have made this a key supervision target in recent months.
Alibaba chairman Jack Ma held two meetings with the heads of the GAQSIQ and the State Administration for Industry and Commerce in the last two weeks to discuss the crackdown on counterfeit products.
The meetings came after the company's Taobao division publicly clashed with the SAIC after the market regulator blasted the consumer-to-consumer platform for failing to tackle the problem of fake products.
A quality check carried out by the SAIC between August and October showed that less than 40 percent of goods on Taobao that were tested were genuine.
The row with the regulators has resulted in several law firms in the United States launching investigations into Alibaba's business practices to determine whether the company has engaged in inadequate disclosure and made false statements.
In the latest development, Ma said in an internal e-mail to the group's employees on Friday that it is inevitable that public companies encounter such challenges. He said Alibaba needs to get used to "being questioned" and actively face the challenge.
Sun said the authority will buy products through online platforms and trace them back to the factories where they were made to check whether they are counterfeit.
"We will also compare the quality of individual products that are sold online and through physical stores so we can give more useful advice to consumers," he added.
Meanwhile, the authority is to include 30 new products on its annual quality inspection list this year. The items were suggested by members of the public who took part in an online poll, and include children's toothbrushes and portable loudspeakers.