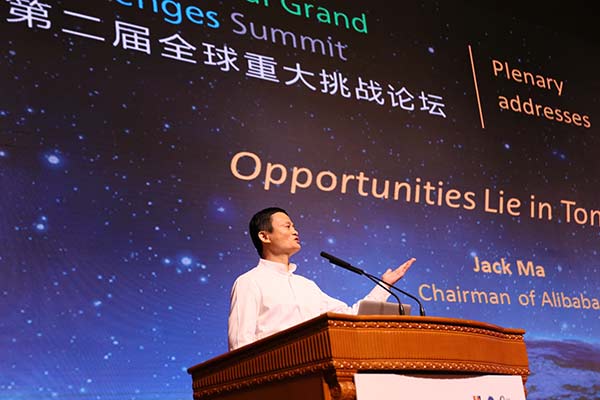 Alibaba founder Jack Ma speaks at the 2nd Global Grand Challenges Summit in Beijing. [Photo/chinadaily.com.cn]
More than 800 government officials and engineering experts from the United States, United Kingdom and China gathered in Beijing to attend the 2nd Global Grand Challenges Summit that concludes today.
The two-day event focuses on critical topics facing countries around the world, including sustainable development, urban infrastructure and healthcare.
At the opening ceremony on Tuesday, Premier Li Keqiang offered a congratulatory letter to the engineering and science experts encouraging them to make concerted efforts to tackle global challenges.
"Human society keeps moving forward by overcoming challenges after challenges. China, the largest developing country, also has various risks and challenges to tackle as it strives to achieve development," Li said in the letter.
He said China stands ready to join other countries in meeting global challenges and promoting inclusive and balanced growth, and green and sustainable development. "Countries working together will foster a community of common development and shared interests," he said.
He urged the representatives from the global engineering, science and industrial communities to use their wisdom and strength, engaging with each other, to devise more concrete solutions to build a better world for everyone.
Presidents of national academies of engineering from China and US, and the president of the Royal Academy of Engineering of UK also addressed the conference.
Entrepreneurs, including Alibaba founder Jack Ma Yun, also spoke at the summit.
The summit was first organized two years ago with 450 participants from the three countries. It was co-organized by the Chinese Academy of Engineering, the US National Academy of Engineering and the Royal Academy of Engineering of UK.