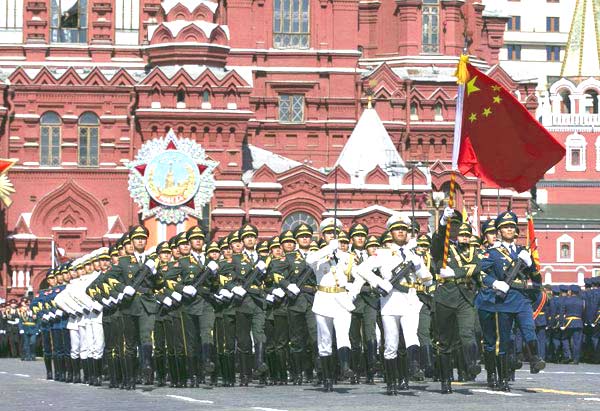 Chinese servicemen march during a rehearsal for the Victory Day parade in Red Square in Moscow, Russian May 7, 2015. [Photo/Xinhua]
Beijing, along with Tianjin Municipality and Hebei province, a region referred to as Jingjinji, are bonding together to improve the air quality for the September military parade marking the 70th anniversary of the end of World War II.
Standard of the air quality will be set according to that of last year's APEC period when six provincial regions - Beijing, Tianjin, Hebei, Shanxi, Inner Mongolia and Shandong - launched a joint air protection project, said Chen Tian, chief of Beijing Environmental Protection Bureau. An expert committee has also been founded like last year to play a think tank role.
Apart from addressing the air issue alone, Beijing and Tianjin are expected to cooperate with cities in neighboring Hebei provinces on pollution control. Beijing will spend 460 million yuan ($74 million) this year help curb pollution in Hebei's Baoding and Langfang, while Tianjin has signed an anti-pollution agreement with Tangshan and Cangzhou.
The fund from Beijing will be shared 50-50 by the two cities to help them phase out small-scale coal-fueled boilers, upgrade larger boilers and cut coal consumption by 770,000 tonnes in total, said Zhuang Zhidong, deputy chief of Beijing Environmental Protection Bureau.
Statistics show that Beijing's air quality has improved since 2014. PM2.5 density in Beijing and its neighboring region decreased by 14.6 percent in 2014, and Beijing, Tianjin and Hebei's average PM2.5 density has dropped by 22.1 percent in the first half of 2015 compared with the same period of last year, according to Zhuang.