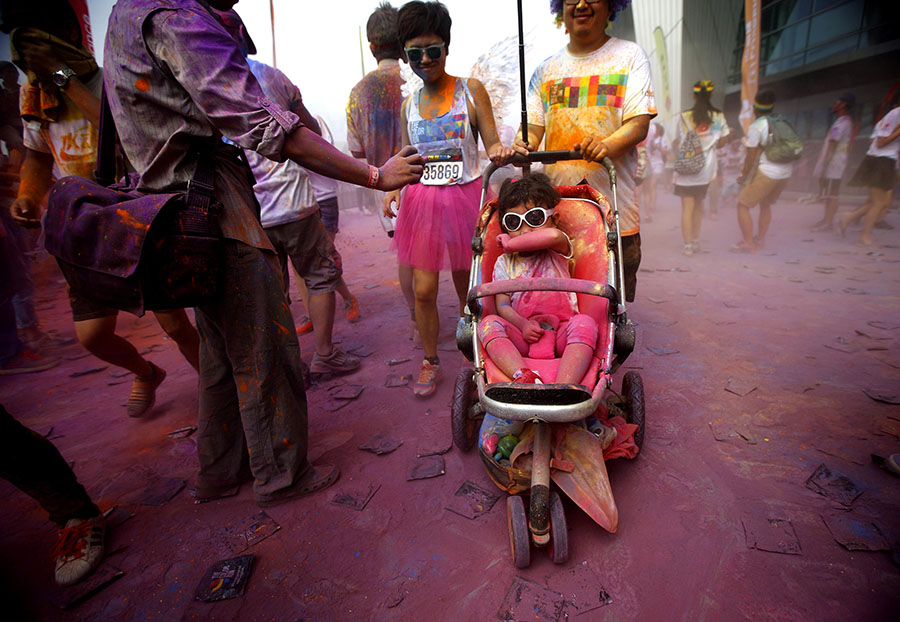 A girl in a stroller covers her mouth as she is pushed across the finish line during the Color Run in Shanghai September 27, 2014. Inspired by the Hindu Holi festival, participants take part in a five-km (3.11-mile) run dotted with locations where colored powders are thrown over them. [Photo/Agencies]
Shanghai has called off the color run and other running events that use colorful powders, in the wake of a tragic dust explosion that killed one and injured more than 500 people at a party in Taiwan's New Taipei city, on Saturday.
Shenyang city of Northeast China's Liaoning province is also considering whether to carry out its color run, scheduled for July 4.
Investigators in Taiwan are still looking into the cause of the blast at a weekend water park party when colored powder sprayed from the stage caught fire. They were focusing on the possibility that a cigarette butt or spark caused the blaze.
"It's still not clear what happened, but there were a number of people smoking and the weather was warm," New Taipei City news department head Lin Chieh-yu said. Temperatures around Taipei topped 36 degrees Celsius (96.8 F) before the party.
The three tons of colored starch-based powder bought by the organizers from Tai Won, a seller in the island's southern county Yunlin, were flammable, said Chou Hui-fang, a representative of the seller. She said the buyer was informed about the risk of fire.
"Whether it's corn starch or flour starch, this kind of stuff, no matter how long it's been around, if it's in dense quantities and if it's hot, it can catch fire," Chou said. She said her 4-year-old company has been questioned by police and health officials but is not considered at fault.
Taiwan's chief administrator Mao Chi-kuo on Sunday announced a ban on colored powder at future private events. The water park was ordered to close after the fire.