Xu Rongqing, head of a rural primary school in Guizhou province, never thought of being able to connect with an organizational learning master in person until he sat in a hall at Beijing Normal University - the cradle of Chinese teachers and school heads - and listened to a speech by Peter Senge, a systems analyst from the United States and the founder of the Society for Organizational Learning.
The connection will make a difference in a plan for the future of Chinese schools in rural areas, which was launched on June 18.
The plan, called the 2030 Project, is a cooperative venture by the School of Continuing Education and the Teacher Training and Executive Development Program at Beijing Normal University.
Under the plan, 100 demonstration schools would be established in China over 15 years, with a view toward expanding to 1,000, and eventually to 10,000 schools.
Guided by Senge's theories of school system evolution, the plan aims to improve rural schools through changes in school heads and teachers, including enhanced leadership, innovative spirit and professional skills.
As the honorary chief expert for the project, Senge will provide regular consulting sessions and meet teachers and school heads, including Xu Rongqing, in rural areas.
In its first five years, the plan will select 50 rural schools from poor areas and 50 urban schools. Each rural school will partner with an urban one, receiving assistance and support. At the same time, the plan aims to train 300 school heads and teachers.
Education is the only institution that can change the world, said Senge, a senior lecturer at the Massachusetts Institute of Technology's Sloan School of Management and author of The Fifth Discipline: The Art and Practice of the Learning Organization.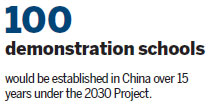 "China has 3.3 million teachers and school heads in rural areas. ... To develop rural education, teachers and school heads are the essential group to change," said Zhao Shi, the project leader and executive director of the Executive Development Program.
Teachers and school heads can lift China's rural education, Zhao said.
Xu said: "Compared with fancy facilities, the lack of good teachers is a more immediate problem. We are not able to keep good teachers. They leave rural schools after they practice their profession and become more mature and better skilled. Teachers who stay lag behind because of the lack of information and knowledge upgrade."
He added that as a school head, he longed for good teachers and hoped his school would be selected for participation in the 2030 Project.
China's top authorities are determined to improve teacher quality in rural areas. The State Council released a plan on June 8 to support rural teachers.
It requires local authorities to train rural teachers, with a view toward reducing the quality gap between rural and urban areas, and providing fair education opportunities for children, no matter where they go to school.
The latest statistics from BNU show that China has 162 million children under age 18 living in rural areas. More than 61 million children under 18 live in rural areas without their parents, who have migrated to work in cities.
luowangshu@chinadaily.com.cn