Survey finds about one-third invest, with 20 percent of them opening accounts recently
As China's stock market has soared since last year, a significant number of college students are piling into the market to practice real life early.
Xin Jinhong, 22, a sophomore majoring in finance at Tianshi College in Tianjin, entered the stock market midway through last year and invested 12,000 yuan ($1,930).
"I did not make a big fortune in the stock market - only several yuan. But the process was pretty dramatic. ... I once gained 2,000 yuan in a day but later lost most of it," Xin said, adding that he spent one-third of his leisure time in stock trading, including reading analyses and staring at the index for prompt stock news.
"Buying stock is like adult life. I've experienced ups and downs," said Xin, adding that he entered the market to gain a rich and diverse life experience. "I had good and bad moments."
He described his stock market experience as "practicing post-graduation life early" and said he would continue doing it "as a hobby, not a career".
China's stock market hit a seven-year high on June 5 as the benchmark Shanghai Composite Index rose above 5,000.
Daily trading value has repeatedly exceeded 1 trillion yuan, according to data from the China Securities Depository and Clearing Corp. In March, investors opened 4.18 million new trading accounts, followed by another 1.6 million in the first week of April.
A random survey of 300 university students in May found that 33.2 percent of respondents invested in stocks. The survey was conducted by a Chinese university media association.
Among those who invested, 20 percent had opened new trading accounts in the past six months, the survey found.
Knowing the market
University students tend to be knowledgeable or somewhat knowledgeable about the stock market, the survey found. It listed 10 stock-relevant terms to test student investors' stock knowledge and found that about 20 percent understood all the terms; 28 percent knew one to three terms; and 12.5 percent understood none.
Additionally, 47 percent of the respondents knew how to read the candlestick charts often used to describe the price movements of a security or currency. About 27 percent of them were not able to read the chart.
Chen Panpan, 23, a junior at Shandong Agricultural University, practiced for about eight months before entering the real stock market in March.
"I wanted to have some personal experience before actually making an investment," the native of Zhejiang province said, adding that although widespread reports said people bragged about making a big fortune in certain stocks, he felt he needed to learn first.
Chen bought 10,000 yuan of stock at the beginning and tripled his money. He now has about 30,000 yuan in his trading account.
"I wanted to learn new ways to invest and better manage my money in the future," Chen said of his motivation for entering the market.
More than money
"I was pretty occupied at the beginning," Chen said. "The market opens at 9:30 am, and I started to stare at the screen at 9, paid attention to every detail of the fluctuation, sold out in two to three days and changed to another share.
"My emotions swung with the share fluctuations," he added. "In March, I bought in a share of a company that plunged on the following day and cost me 2,000 yuan. I was very upset. But on the third day, it bottomed out. I was very moody then."
He said he is much more able to control his emotions now.
"Maybe I am getting used to the ups and downs now. The stock market is not in my control. It will not rise because I cared, was devoted, worried or upset," he said.
Now, Chen sells and buys every two to three months and looks at the market index for about 20 minutes a day. He also pays attention to financial policies.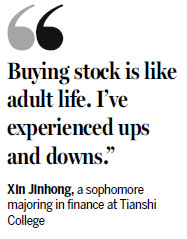 "I've learned my lesson and do research. I think this is the best way for nonprofessionals like me to invest in the stock market," he said.
"I will continue to invest in the stock market, not bet all my money in it but maybe half, for a possibly higher return."
Chen said that many of his college friends show interest in the stock market, but few of them actually take action.
Schools' attitude
Schools generally take no stance regarding their students' participation in the stock market.
Asked about student involvement, faculty members at Renmin University of China, a school with strong financial programs, said they didn't take notice.
"Schools do not interfere with students' personal choices. No particular guidance is ever provided," according to a staff member who works closely with students at Central University of Finance and Economics, a university with a strong reputation for its financial programs.
luowangshu@chinadaily.com.cn
(China Daily 06/30/2015 page8)