British rugby teams are planning to visit China in July for competitions with Chinese athletes - part of an effort to boost communication and understanding between the people of the two nations through summer camps.
Male and female rugby teams from Swansea, a coastal county in Wales, are expected to join China-UK Sport Week, the first such event for the two countries, hoping to popularize the sport and help Chinese understand the culture behind it, Shen Yang, minister counselor at the Chinese embassy in London, announced during an educational activity earlier this month.
"It's an interesting activity and will help cultural communication," Shen said. "Similar rugby teams have been developed in China, including at China Agricultural University and Beijing Normal University, and similar sports events are being brewed up and will be held this year."
Yang Weiren, director of the International Cooperation and Exchange Division at the Shanghai Municipal Education Commission, said summer camps embody "people-to-people and heart-to-heart communication".
Shanghai has had 21 summer school projects involving other countries, regions and a few important international organizations. Yang said the activities are supported by about 15universities, including Fudan University, each year.
Each summer camp consists of 25 foreign students and lasts about one month in Shanghai, Yang said. The original goal was to help more foreigners understand Shanghai, the city's educational system and its colleges.
"We didn't think more about cultural communication at the beginning, but now our original aim has made the communication come true," he said. "For instance, some foreign students want to study at Fudan after the summer camp, which proves that communication is not just on the surface. Instead, it needs to be fulfilled via specific activities."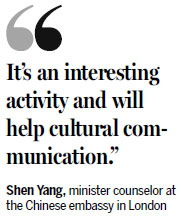 Yang's commission is also conducting an international summer school project with Shanghai's sister cities. "Students in the project can make friends around the world, not only in the UK and the United States. The internationalism and diversity is what we want, and it's also the core of cultural communication," he said.
In addition, about 200 pupils and middle school students will visit at least five foreign embassies in Shanghai every summer to experience other countries' food, customs and cultures from the ambassadors, he said, adding that it is best to develop communication in the younger generation.
Student exchanges have been springing up in China over the past few years, and more Chinese students prefer to study abroad. Now, more than 150,000 Chinese are studying in the UK, and the number is still rising, according to Shen.
Meanwhile, British students in China last year numbered nearly 6,000. That figure is also increasing rapidly, Shen said.
"The come-and-go is what we most want to see in cultural communication. That's the nature of it. Thanks to the summer camp projects, such interactions can go smoothly," he added.
caoyin@chinadaily.com.cn