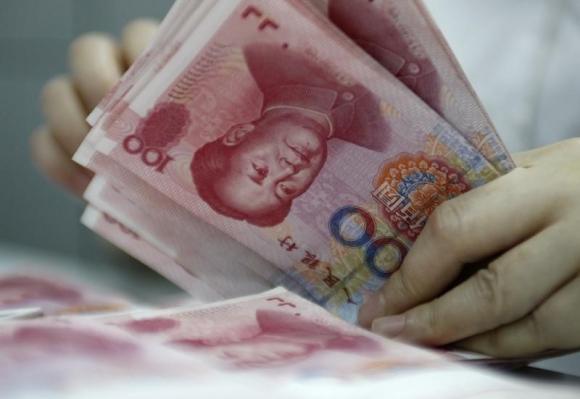 An employee counts yuan banknotes at a bank in Huaibei, Anhui province June 22, 2010.[Photo/Agencies]
BEIJING -- China's top auditor Liu Jiayi on Sunday warned of the debt risks of some local governments and called for an evaluation and early warning system for such debt.
Briefing lawmakers on the auditing of the implementation of the central government 2014 budget, National Audit Office (NAO) chief Liu said "certain local governments have difficulty in repaying their debt."
For years China has struggled to rein in local government debt. A huge risk to financial stability, these debts were incurred through unbridled borrowing during the investment and construction binge which followed the 2009 global financial crisis.
While debt once helped the prodigious expansion of an investment-based economy, it now appears unsustainable as the growth model is rebalanced toward consumer demand.
There is no official public data on size of the problem, but the NAO estimated direct local government debt at 10.9 trillion yuan at the end of June 2013. According to Liu, some 1.86 trillion, or 17 percent, of this debt will mature this year.
A recent NAO survey involving nine provinces, nine cities and nine counties discovered local government debt at the end of last year to have ballooned by 46 percent from the 2013 level. Debt grew at a much slower rate in the first half of this year, expanding just 0.1 percent by the end of March compared with 2014, Liu said, but went on to caution that one third of the localities in the survey had seen their financial competence decline last year, and that the majority of them had not yet issued any bonds.
Liu also said that an evaluation and early warning system for local government debt must be established to contain any risk. Liu's words were echoed by finance minister Lou Jiwei, who sees a strong need for better management of local government bonds and wants more private investment pumped into existing projects.
Debt swaps, which allow local governments to convert their debt to low interest bonds, should also be carried out effectively and sensibly, Lou said, easing the debt burden without disrupting the broader economy.
Earlier reports said the Ministry of Finance has approved two rounds of local government debt swaps for this year worth one trillion yuan each.