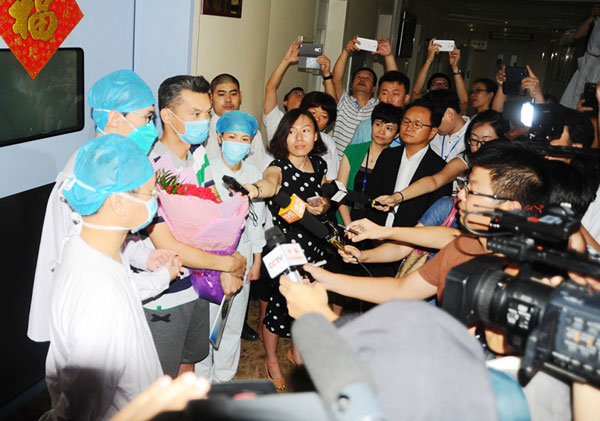 The recovered South Korean patient was discharged from hospital in Huizhou, Guangdong province on Friday. [Photo/Asianewsphotos]
SEOUL - A South Korean man who became China's only case of Middle East Respiratory Syndrome (MERS) has fully recovered and is being released from a Chinese hospital on Friday, the South Korean health ministry said.
The 44-year-old man, whose father is another MERS patient, had defied recommendations from health authorities in South Korea to remain in voluntary quarantine, flying to Hong Kong in late May before taking a bus to Chinese mainland.
He later tested positive for the MERS virus and had been hospitalised in the Chinese city of Huizhou, where his initially unstable condition gradually improved, the ministry said.
There have been no other MERS case reported in the Chinese mainland and Hong Kong.
The release of the South Korean man in China will bring the number of people who have recovered and have been discharged from hospital in the outbreak to 82, about 45 percent of the total cases.
Sixty-nine people remain hospitalised.
The South Korean health ministry reported on Friday that two more MERS patients had died, bringing the number of fatalities in the country to 31.
Both were elderly patients and had serious pre-existing medical conditions, as was the case with most of those who have died in the outbreak, the ministry said.
The ministry also reported one new case, taking the total to 181, the highest number of cases outside Saudi Arabia.
South Korean health authorities were more guarded this week in their view on whether or not the outbreak is slowing, after an optimistic assessment last week that it may have levelled off.
First identified in humans in 2012, MERS is caused by a corona virus from the same family as the one that triggered the 2003 outbreak of Severe Acute Respiratory Syndrome (SARS). There is no cure or vaccine.
South Korea has ordered hospitals to track all emergency ward visitors after the outbreak of the virus was blamed on difficulties locating every person exposed to the disease, the health ministry said on Thursday.