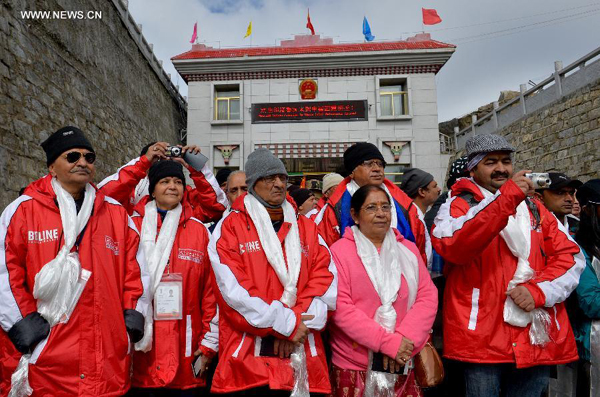 Indian nationals enter Tibet Autonomous Region, southwest China, via Nathu La Pass on June 22, 2015. [Photo/Xinhua]
According to Indian media, around 250 pilgrims, in five groups of 50, will travel to Tibet along the new route this year. Among the first group, some pilgrims had dropped out for health reasons. Another 18 groups of 60 pilgrims will undertake the pilgrimage along the old route.
Tarun Vijay, president of the Parliamentary Group on India China Friendship, said the new route marked a milestone in the bilateral relationship, and it has global significance.
"It is a moment of mutual trust," he said. "We are grateful to President Xi Jinping and Prime Minister Narendra Modi for their efforts."
The new route will be an enduring symbol of the people-to-people ties between India and China, said Shrila Datta Kumar, counsellor from the Indian Embassy to China.
Amarnath, 70, from Mumbai was among the first group of pilgrims.
"It is my first time traveling to Tibet, and probably my last time. I thank the Chinese government for the warm welcome," he said.
The Nathu La Pass sits 4,545 meters above sea level and is wedged between Tibet's Yadong County in Xigaze Prefecture, and India's Sikkim State. It was the shortest land pass for trade between China and India, and also the highest altitude land pass for trade.
The pass was closed for more than 40 years. It was reopened in 2006, but for trade only.
Indian nationals have made the pilgrimage to Tibet every year since 1981. China has welcomed almost 80,000 Indian pilgrims in the past decade alone.
The pilgrims traditionally climb over the Qang La Pass, which sits 5,200 meters above sea level on the China-India-Nepal border, to reach their destination. The road is steep and usually covered by snow.
Relations between India and China are on a continuous growing path. Indian Prime Minister Narendra Modi visited China this May, following Chinese President Xi Jinping's visit to India last year.