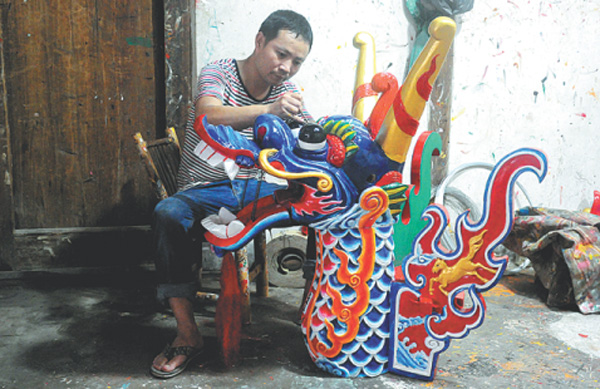 Fang Xiaoshui paints a dragon head carved out of camphor wood. He and his family have to work until midnight during the busy season. [Photo/China Daily]

Since the Qing Dynasty, a family of boatmakers has created new designs and found new production methods for their craft, but now modernity is endangering their art's survival
On a sweltering afternoon at Fangzhuang village, several workers are busy sawing wood and hammering long iron nails on large half-finished wooden dragon boats. The smell of wood, tung oil and sweat fills the shipyard, even as big electric fans disperses it.
Located at Nantong town, Fuzhou, Fujian province, the village is famous for its tradition of making dragon boats and attracts buyers from Fujian and other provinces before the Dragon Boat Festival on June 20. Villages in the province would organize dragon boat races and a good boat means a better opportunity to win.
The shipyard's owner is Fang Hegang. His two brothers also open dockyards in the village. The three learned how to make dragon boats from their father and mastered the technique when they were only teenagers. They are known as "the family of dragon boats", with skills passed on from generation to generation since the Qing Dynasty (1644-1911).
The family's fame and good quality boats bring them regular orders, most of which start two or three months before the festival. In slack seasons, they spend several months preparing materials for boat making such as sawing wood and drying them in the sun. They would buy long and straight China fir in deep mountainous areas in Fujian province.
Unlike their ancestors who made boat of the same shape for many years, they are updating their dragon boats every year to cater to market demands. Each of the three brothers has their own boat shape designs and methods to make them.
"Creativity is very important for boat-making, to keep up with the times. That's why our boats are faster than others," says the elder brother Fang Heyong, 57, who is polishing wood wearing presbyopia glasses. He learns about boat shapes from other shipyards to develop new versions, and designs boats according to the number of rowers and their total weight.
New boats are lighter, narrower and faster, with lower draught and smaller resistance. They weigh about 400 kilos each, compared with 650 to 750 kilos in the past.
Fang Heyong says the wood nowadays is becoming lighter, with lower density. Planted trees grow much faster than before due to fertilizers. He used to buy wood that had an age of about 50 years, but now only has to buy those that are 30 or 40 years old. The planted ones make the boats faster, but the virgin forest wood is more durable.
Besides that, the brothers try to make some wood blocks thinner to decrease the weight.
"In the past the boat would start to speed up after all the rowers have paddled five times, but now it takes only twice," Fang Hegang says.
It takes about three hours for Fang Hegang to make a drawing sheet on the ground with a traditional wood ink marker of a carpenter. He has to carefully mark out all the straight and curve lines.
The most essential step is to make the keel and frames of the boat to decide its shape. The number of frames varies according to the capacity of the boat, with its length ranging from 18 to 22 meters. In Fuzhou's tradition, there are 32 paddlers, a drummer, a gong beater, a helmsman and the one who sets off firecrackers at the fore.
Fang Hegang's shipyard has 12 workers, with an average age of 50. The eldest one is 72. They make a daily wage of more than 300 yuan ($48.36). About four or five elder workers left in the past three years, and there are no new workers.