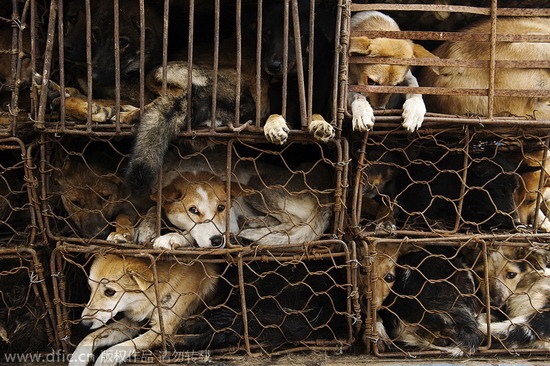 Caged dogs are being transferred from a zoo to dog meat restaurants, in Changsha, capital of Central China's Hunan province.[Photo/IC]
BEIJING - Yulin, China's dog meat festival, is held every June on Xiazhi, the longest day in the Chinese lunar calendar. But what does the public really think about eating dog meat?
On Twitter, thousands of tweets bearing the hashtag # StopYuLin2015 were posted every hour on Friday alone, with many users calling on their followers to sign a petition to stop the Yulin festival.
As of 9 pm, Friday, more than 2.3 million users had posted messages opposing the practice. Similar campaigns were also seen on Sina Weibo, China's Twitter-like microblog website.
#Yulindogmeatfestival was used in more than 350,000 posts, making it the highest-trending hashtag on the issue.
Topics with more suggestive tags such as # saynotoYulindogmeatfestival attracted wide attention, and many retweets.
However, contrary to the buzz on Twitter, data revealed by search engine Baidu paints a different picture; suggesting a decline in interest in the festival.
According to Baidu Index, searches for "dog meat" over the past seven days had dropped 38 percent year on year, while "dog meat festival" had 57 percent less searches.
However, it revealed that the most-asked questions related to dog meat were: "How to cook it" and "when is the festival".
In regions like Yulin in southwest China, dog meat is seen as a delicacy. However, a growing number of people oppose the tradition, on the grounds that dogs are pets and eating dog meat may cause disease.
On Thursday, Yulin government reiterated that it did not support the "so-called festival" and promised to come down hard on anyone caught stealing or poisoning dogs.
In 2011, Jinhua, another city in east China's Zhejiang Province canceled its 600-year old dog meat festival after massive opposition.

Related reading: Time to view dog meat issue differently
By Li Yang (China Daily)
Litchi and dog meat is the unlikely favorite combo of people in Yulin, South China's Guangxi Zhuang autonomous region, on summer solstice. In fact, the local catering industry has been using the combo to promote the summer solstice "festival" since the late 1990s, claiming ancient herbal medicine books say that eating litchi and dog meat together can help people overcome the negative effects of the hot and humid weather.
For the past few years, animal rights activists, both from home and abroad, have been urging people to boycott the "festival", their main objection being against the mass slaughter of dogs. But those who love dog meat say the "festival" is part of local tradition. The Yulin local government, on its part, has decided not to interfere in the issue, because it is a civil matter.
The difference between humans and other animals is that humans always want more than they need to sustain their lives. The number of animal species (not to speak of plant species) that has become extinct in the past 200 years is perhaps more than the total number of people criticizing Yulin residents for eating dog meat, but surprisingly these critics have had nothing to say about the great loss.