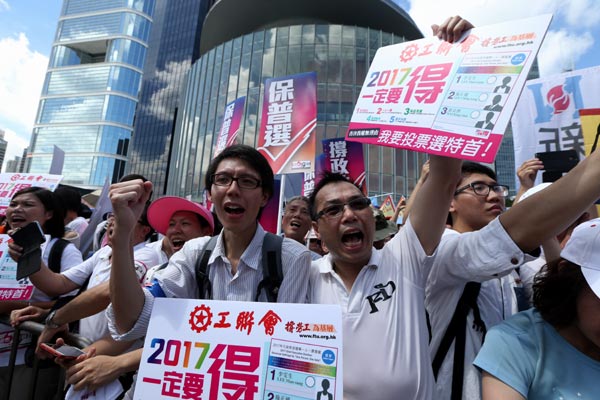 Citizens carry placards and shout slogans outside the Legislative Council headquarters in Admiralty district to support the Hong Kong government's electoral reform package on June 17, 2015. Roy Liu / China Daily
BEIJING - China's top legislature said its decision on Hong Kong's electoral reforms last August will remain in force in the future, despite Hong Kong Legislative Council's veto of the universal suffrage motion on Thursday.
"Although the universal suffrage motion was not passed at the Legislative Council, the direction towards universal suffrage and the legal principles laid down in the decision of the National People's Congress (NPC) Standing Committee, must continue to be upheld in future efforts to pursue universal suffrage," read a statement from the office of the NPC Standing Committee.
"The decision shall continue to serve as the constitutional ground for Hong Kong in the future as it enforces universal suffrage in the chief executive election, and its legal force is unquestionable," it read.
Hong Kong legislators on Thursday rejected an electoral reform plan for selecting the region's next chief executive in 2017.
After a nine-hour debate which started on Wednesday, 28 lawmakers among the 37 present voted against the motion while eight voted in favor.
Many lawmakers left the chamber of the legislature building before the vote.
According to a decision by the Standing Committee of China's National People's Congress, the motion needs to be endorsed by at least two-thirds of all the 70 lawmakers, or 47 votes, in the Legislative Council.
The motion proposed that candidates for the role of chief executive will be vetted by a 1,200-strong committee made up of representatives from different economic, political and social sectors who may support multiple candidates and will recommend and nominate two or three candidates.
Candidates who secure support from at least half the nominating committee will then face the city's registered voters.