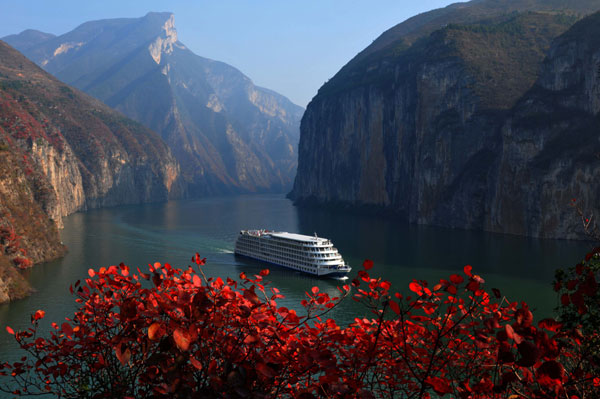 A cruise liner sails through a section of the Three Gorges on the Yangtze River in 2011. Zhou Hui / for China Daily
The horrific loss of life in the Eastern Star disaster highlighted a range of problems facing tour operators on the river. Now, some experts are calling for a root and branch reorganization of the industry. Tan Yingzi reports from Chongqing.
As the longest watercourse in China and the third-longest on the planet, the Yangtze River is famous for its long, rich history and beautiful scenery. During the Qing Dynasty (1644-1911), emperors frequently boarded wooden ships to cruise along the river and inspect their territory.
In recent years, cruises on the Yangtze have grown in popularity, and at one point they were as popular as those provided by operators on the Nile in Africa, the Mississippi in the United States and the Rhine and Danube in Europe.
However, the Eastern Star tragedy has cast a shadow over an industry that's already in the grip of a downturn. On the night of June 1, the cruiser, owned by Chongqing Eastern Shipping Corp and carrying 454 passengers and crew, capsized in the Hubei province stretch of the river en route from Nanjing in Jiangsu province to the central municipality of Chongqing.
The final death toll has been put at 442. The ship's captain and chief engineer, who were among just 12 survivors, have been detained by the authorities and an investigation is continuing.
The tragedy resulted in a number of tour groups canceling cruises on the river, citing safety concerns, and cruise operators expect to see low visitor numbers for the rest of the season.
That slowdown may force a long-needed revolution in the industry, according to observers. "This awful tragedy may provide an opportunity for China's cruise industry to cool down and think," said Wang Ning, a travel expert on the Yangtze River at Chongqing Technology and Business University. "It's time to revamp the whole industry and upgrade cruise trip services," he said.