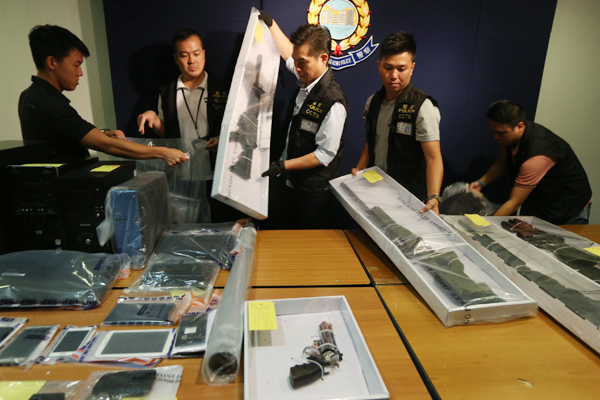 Police officers at a news conference, held on June 15, arrange air rifles seized with explosives in Hong Kong. Police in Hong Kong arrested nine people in raids and seized suspected contraband, authorities said. [Roy Liu/China Daily]
HONG KONG - Five men and one woman were holding charged with "conspiracy to cause explosion" on Tuesday upon further investigations by the Hong Kong police.
The police Monday arrested 10 local residents, who were allegedly plotting to make bombs with explosives days ahead of this week's Legislative Council vote on a universal suffrage package.
The six people who were charged will appear before Kwun Tong Magistrates' Court on June 17. The remaining one male and three female were released on bail pending further investigations and are required to report back to the police in mid-July.
The police said the investigation is still ongoing. The likelihood of further arrests is not excluded.
In the light of this case and risk assessment, the police have launched an operation code-named "Jointbuilder" on Tuesday. Apart from stepping up patrol in various districts, officers will visit companies selling chemicals or chemical products to conduct investigation and take enforcement action to combat such crime if necessary.
The police also remind the public that manufacturing or conspiring to manufacture explosives is a very serious offense. According to Section 54 of the Crimes Ordinance (Cap. 200), the maximum penalty upon conviction will be 20 years' imprisonment.
The police Monday found maps marking locations in Wan Chai and Admiralty, two of Hong Kong's commercial districts, and seized several km of suspected solid explosives and five liters of liquid explosives at a "bomb factory" in Sai Kung of the New Territory.
The police also seized at one suspect's home explosives which were confirmed to be ingredients for triacetone triperoxide or TATP, a highly explosive substance that was used in the 2005 London bombings.