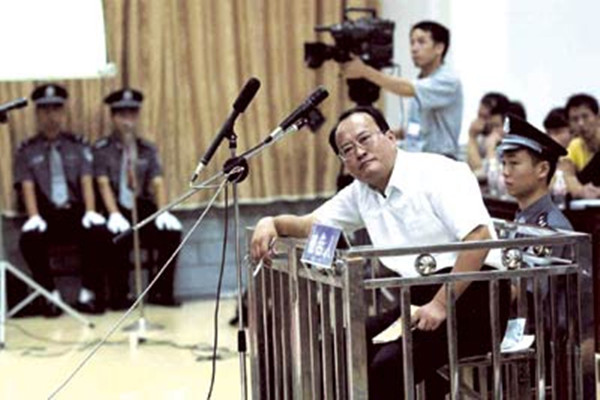 Zhang Erjiang on trial in 2002.[Photo/xinhuanet.com]
A former high ranking official, released six years earlier than his original 15-year jail sentence, has defended the commutation, Central China Television reported.
Zhang Erjiang, former secretary of the Tianmen City Committee of the Communist Party of China in Hubei province, was jailed for embezzling public money and accepting bribes in 2002.
One of the reductions in his term was due to him making a "special contribution to society" by writing four books on classic literature, according to Xinhua.
The decision reflected Zhang's "good behavior in rehabilitating himself by writing and publishing four books in prison," according to the Hubei provincial bureau of prison management.
Amid public doubt over the move Zhang told the TV station that China's law concerning commutation is serious but normal.
A statement issued by the Hubei provincial bureau of prison management also confirmed that Zhang's reduction of sentence was made according to law.
Prison life
Of making the transition from official to prisoner, Zhang said he never adapted to his change in circumstances, saying he was unwilling to put on a prison uniform at first.
"The most unbearable thing was stings from mosquitoes. I hardly fell asleep during the whole night in the early days," Zhang said, "Even some stubborn mosquitoes took a last bite on the verge of them dying.
"After mosquito-repellent incense was lit, 70 to 80 dead mosquitoes were found in the incense container every morning".
But he finally faced reality, obeying prison rules and regulations such as saying: "May I come in?" every time he entered a room.