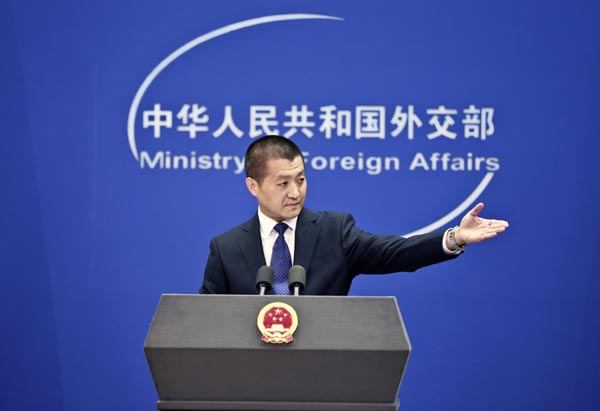 Lu Kang becomes the new Foreign Ministry spokesman on June 15, 2015. [Photo/China Daily]
Lu Kang admitted modestly to being a little nervous on his debut as a Foreign Ministry spokesman on Monday, despite a diplomatic career spanning 22 years.
For Lu, the ministry's 28th spokesperson since 1983, the sense of pressure was primarily due to the importance of his new assignment and the challenges posed by a world hungry for information about a rapidly developing China.
"The spokesperson system is a platform to help various parties better understand China's foreign policies. I would like to work as hard as my predecessors and colleagues to realize this goal," he told dozens of reporters during his opening remarks.
But he showed no sign of nerves when firmly addressing a question from a journalist citing "anonymous sources" concerning US hacking allegations targeting China.
"There has been a lot of gossip from anonymous sources, and we don't bother to comment about them one by one," said Lu, a former minister at the Chinese embassy in the United States.
Now 47, he became head of the ministry's Information Department two months ago. Along with spokesman Hong Lei and spokeswoman Hua Chunying, he will rotate duties in taking the ministry's daily news conferences on weekdays.
"Being a spokesman is different from my previous posts, but I'm confident," he said after the news conference, asking reporters to rate his debut performance.
"China has become more and more involved in the international community since launching the reform and opening-up policy. ... People become appreciating that China's development is in their interests," Lu said.
His own experience provides ample proof of the growing ties between China and the rest of the world.
Since joining the ministry in 1993, his work has spanned the globe, and apart from a stint in the US he has served at the Chinese embassy in Ireland and was also China's senior official for the Asia-Pacific Economic Cooperation.
Besides a degree from China Foreign Affairs University, Lu achieved a master's in public policy after studying at the National University of Singapore in 2000 and 2001.