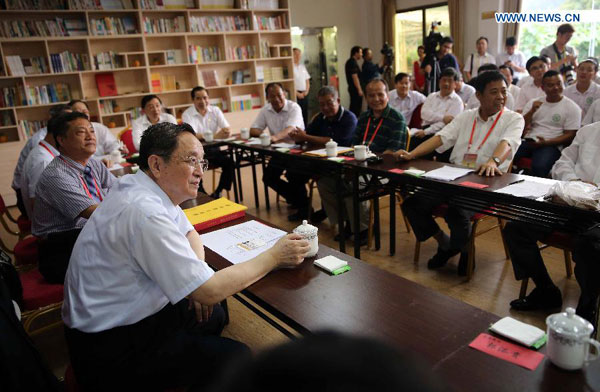 Yu Zhengsheng (front), chairman of the National Committee of the Chinese People's Political Consultative Conference (CPPCC), attends a meeting with a visiting Taiwanese delegation who came to attend the 7th Strait Forum in Xiamen, Fujian Province, June 13, 2015.[Photo/Xinhua]
XIAMEN -- The Chinese mainland will remove the entry permit requirement for Taiwan residents, as top political advisor Yu Zhengsheng vowed to boost exchanges across the Taiwan Strait on Sunday.
Yu, chairman of the National Committee of the Chinese People's Political Consultative Conference, announced the plan during a speech at the seventh Straits Forum, the largest annual event for cross-Strait exchanges, in Xiamen in the southeastern province of Fujian.
Currently, Taiwan residents must apply for a visa-like entry permit in order to visit the mainland.
Taibaozheng, a passport-like document that carries the entry permits for Taibao, or Taiwan compatriots, will also be made into a card, Yu said. The document also serves as identification during a Taiwan residents' stay on the mainland.
The plan to offer the permit-free policy was announced as Yu promised to create better conditions for cross-Straits exchanges.
"We'll continue to expand people-to-people exchanges across the Strait and engage more Taiwan compatriots in the trend of cross-Strait interaction," Yu said.
Taiwan and the mainland broke off communication in 1949, after the Kuomintang (KMT) lost a civil war with the Communist Party of China and fled to the island.
Cross-Strait exchanges and travels only became widely possible after 2008, when the KMT adopted mainland-friendly policies and the two sides opened direct mail, transport and trade links.
"Cross-Strait exchange is indeed the communication among people, and the heart-to-heart communication is the most important," Yu said, adding the development of the cross-Strait ties over the past six decades has brought substantial benefits to people on both sides.
Official statistics show in 2014, Taiwan residents made 5.37 million visits to the mainland, up from 4.36 million in 2008. Mainlanders made 4.04 million visits to Taiwan last year, compared with 280,000 in 2008.
As a breakthrough of cross-Strait ties, residents in three mainland cities were allowed to visit Taiwan as individual tourists in 2011 in a friendly bid to boost Taiwan's tourism. So far, residents in 47 cities have been given such permits.
Despite increasingly deepening relations between Taiwan and the mainland, Yu acknowledged the island's "separatist force" is still the biggest obstacle that hinders the peaceful development of the cross-Strait ties.
"We'll consistently support exchanges among compatriots of the two sides and firmly oppose the separatist forces' obstructive intent to the peaceful development of the relations," he said.