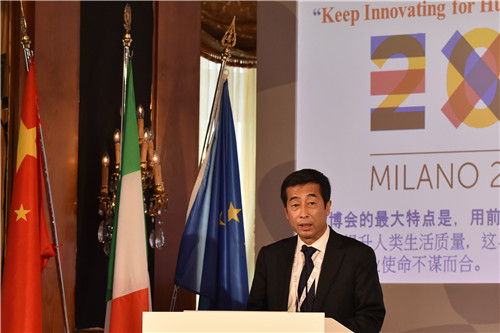 Zhang Jianqiu, CEO of Yili Group gives a speech at the Sino-Italian Agriculture and Food Cooperation Forum on June 9.[Photo provided to chinadaily.com.cn]
Chinese dairy giant Yili Group promoted the "Silk Road of dairy industry" at the Sino-Italian Agriculture and Food Cooperation Forum at the Expo Milano 2015 on June 9.
Zhang Jianqiu, CEO of Yili Group, proposed the Silk Road of dairy industry at the forum to promote the global dairy industry's sustainable development and cooperation between Chinese and Italian dairy enterprises.
"The powerful Silk Road can bring vitality to the global dairy industry. The Belt and Road Initiative proposed by Chinese President Xi Jinping has created favorable conditions for the world's dairy integration and deepen cooperation among dairy businesses. It's crucial to push global dairy resources integration and market sharing," said Zhang.
Dairy enterprises should commit to innovation and internalization for sustainable development, according to Zhang.
It's a new trend for the global dairy industry to bring creative ideas throughout the world to the Chinese market. "In echoing this trend, Yili has proposed a 'trans-innovation' idea. It has been developing innovative products through cooperation with leading dairy organizations, then supplying them to the Chinese market. It works to provide better products by utilizing resources throughout the world," said Zhang in explaining the innovation.
Zhang said "Yili has carried out cooperation with industry players from different regions in the world, to build a global network that covers resources, innovation and marketing systems".
From 2013, this Chinese dairy group has cooperated with world leading dairy giants such as Italian-based Sterilgarda Alimenti S.p.A and US-based DFA. It has established R&D centers with universities in the Netherlands and New Zealand and cooperates on quality management with leading quality certification companies.
Yili is a partner of the Chinese pavilion in the Expo 2015. It has participated inthe expo's dairy products day, as the only Chinese dairy enterprise invited.
"The Universal Exposition always devotes itself to new ideas and new thoughts, and promoting new products and technologies. Yili has contributed from a global view," said a dairy expert.