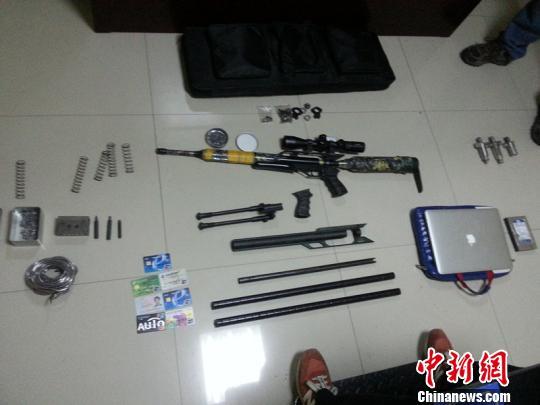 Weapons seized by police during a crackdown on online gun trafficking. [Photo/CNS]
A large number of guns and bullets were found at the home of a teacher during a nationwide police operation against gun trafficking, China News Service reported on Thursday.
Xiao Hua (alias) was a teacher at a college in Xuzhou, Jiangsu province. Police seized 225 gun barrels at his home and more than 40,000 bullets sent to him by an arms dealer.
"It was like an arsenal," said a police officer who participated in the raid, adding that gun parts seized were capable of making 60 to 70 weapons.
Police said the man had been a military fan since childhood and he had started buying gun parts from a Taiwan arms dealer in 2013, selling them to customers in the Chinese mainland after assembling them. The profit is huge - a barrel bought for 2,000 ($322) to 3,000 yuan sold at almost double the price.
Police said that driven by huge profits, Xiao attempted to develop an original brand himself and not just act as a dealer for others. He intended to create a nationwide online network selling guns across China. He made weapons himself through cooperation with a factory, with the cost of a barrel sometimes as low as 100 yuan.
Xiao said buyers and sellers knew each other and finalized deals online.
Following a tip off police arrested the Taiwan arms dealer surnamed Xie who headed a gun trafficking gang, members of which cover the entire country.
The operation is still under way, with more than 20 suspects nabbed in Jiangsu province alone and Xiao faces imprisonment of up to 10 years.