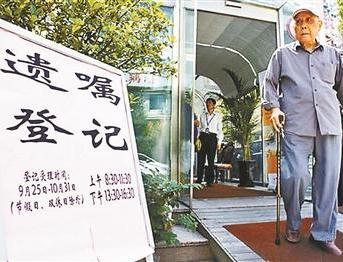 An old man walks out of a testament agency. [Photo/China News Service]
It may just be a piece of paper, but fees of up to 7,000 yuan ($1,127) will be charged for having last wills and testaments written up in private homes.
Testament agencies are offering customers a "one-stop" service that can be written at private residences. An agency based in Beijing's Chaoyang district says the testaments are legally enforceable.
Once an application is received, the agency will assess the customer's mental state to see if they are capable of conducting civil actions, expressing their own will, and handling their estate.
A lawyer from the agency will devise a template to help write the testament, in addition to providing legal counsel. The customer is free to write the document if they have an adequate literacy level. Otherwise, the agency will write it on the customer's behalf.
The agency charges 2,800 yuan to write the testament or 1,800 yuan if the customer writes their own. If a representative from the agency provides services at a customer's home, the agency charges up to 7,000 yuan.
The agency will send two staff members as witnesses to ensure a testament's legality, and take video footage for further insurance.
To provide service in a customer's home, the agency needs several people, including a lawyer and a doctor, which is why the price increases to 7,000 yuan.
The most common way to prepare a testament is at a government notary office, but they don't provide visiting services. Older people, who may have restricted movement, can find this inconvenient.
Lawyer Kang Kai said it is possible to write a personal testament at home, assuming a person has adequate literacy, and that it is unnecessary to pay thousands to have it done. This type of service should not be profit-driven, he said.