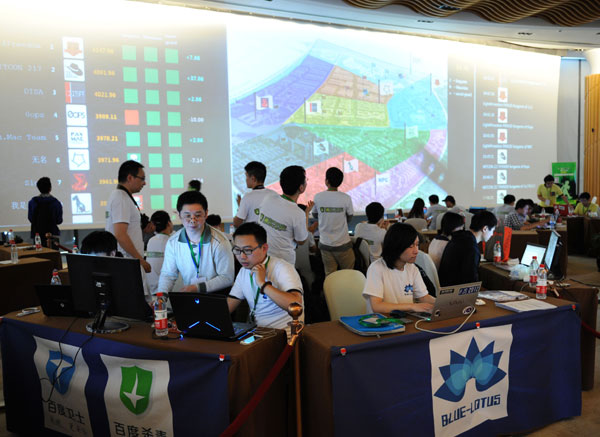 More than 40 white-hat hackers attend the final of a national competition designed to find new talent to work in the network security sector in Nanjing, Jiangsu province, on May 2.A total of 2,500 people from home and abroad entered the competition. Sun Can / Xinhua
The majority of Chinese white hat hackers are young people born in the 1990s, according to China's first report on the subject.
An online "geek" community called GeekPwn initiated the survey and published its results on Wednesday. GeekPwn is affiliated with a security group called KeenTeam.
White hat hackers are information security personnel who use their online hacking skills to help maintain Internet safety. Some 61 percent of white hat hackers were born in the 1990s, while 30 percent were born in the 1980s and 4 percent in the 1970s, according to the report.
The report also says that 55 percent of white hat hackers make no more than 100,000 yuan (about $16,110) a year, and five percent have an annual income over 500,000 yuan.
However, according to the report, about 84 percent of people believe that white hat hackers make more than 100,000 a year, and 21 percent believe a hacker's annual income is more than 500,000 yuan.
Among white hat hackers, 51.48 percent are self-taught, while 24 percent studied hacking-relevant skills at school. Some 20 percent use their skills only to meet the demands of their work.