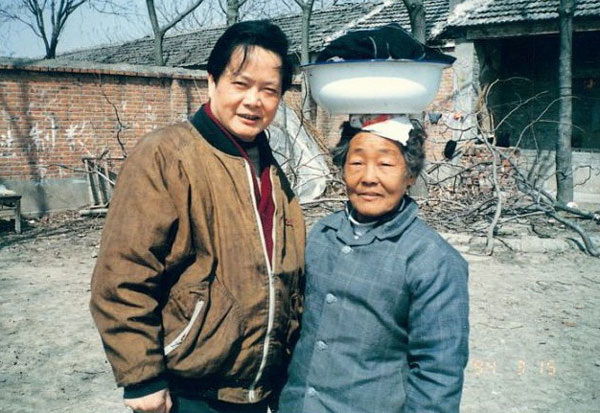 Lee Chun-young (right) and Zhao Ruitai at Lee's home in Anhui province in 1994. Lee performed a Korean dance with a washbasin on her head while posing for the picture. Provided to China Daily
The Qintai Theater in Wuhan, Hubei province, was filled to capacity one evening in May for a performance of Don't Forget Me, a play based on the story of Lee Chun-young who was forced by the Japanese to become a "comfort woman" during World War II.
As the emotional drama and destiny of the two main characters unfolded, many in the audience were wiping tears from their eyes.
Lee was born in South Korea in 1925. She was captured by the Japanese at the age of 13 and brought to Harbin in Northeast China's Heilongjiang province in 1938.
She was forced to follow the Japanese army and was taken to other places, including Shandong province, Hong Kong and Wuhan, where she managed to escape.
She spent the rest of her life in China, but was continually haunted by those years of abuse as a comfort woman.
She became the first woman to talk publicly about enduring the experience of being a comfort woman in the Chinese mainland. Her courage to sue the Japanese brought her into the media spotlight, which prompted other comfort women to face the cameras to demand Japan's formal apology and compensation.
Don't Forget Me is the second drama based on Lee's life by Zhao Ruitai, a 73-year-old playwright in Wuhan. The play was jointly directed and acted by Chinese and South Koreans.
"The plot of the drama comes from Lee's real experience. And the story happened at Jiqingli community, in Hankou district, where the Japanese established a military brothel," Zhao said.
Today Jiqingli community is home to some 400 people, and its roads and architecture have remained the same since the days of Japanese occupation.
According to Zhao, Lee married twice after her escape. The first marriage only lasted a few years because she was unable to have children after the years of abuse at the brothels.
She met her second husband, Guan Chaoxin, in 1957 and they settled down in a village in Anhui province for more than three decades.
Zhao visited Leeat her home in 1994. "More than 20 years have passed, but the day of the interview is as clear as if it happed yesterday," Zhao said.
"She was optimistic and did not avoid recalling her suffering. She even danced for a while, a dance she learned as a child when in South Korea," Zhao recalled.
After gaining so much firsthand information, Zhao felt obliged to write her story for the stage in order that it reach a wider audience.
His first drama, based on Lee's story, Emotional Ties to Mother River, had its stage premiere in Wuhan in September 1994.
When Zhao led her on stage to meet the audience, Lee said, "I am more than 70 years old. I do not want war, I want peace."
Zhao said, "I couldn't helping crying when I heard those words from the mouth of a former comfort woman victim."
With the help of South Korean students at Nanjing University, Lee returned to South Korea in 1995 and died several months later.
Zhao said that on several occasions when walking in Jiqingli, Lee's image would appear in his mind.
"I grew up at Jiqingli and knew the history of the region. I hope to use these real stories to remind people to never forget history," he said.
Don't Forget Me is not only the name of the drama but also the last words spoken by the heroine before her death. In the drama, Japanese soldiers rape the 5-month-pregnant heroine to death.
During Lee's five miserable years as a comfort woman, she was often forced to receive more than 20 Japanese soldiers a day, and they lined up outside the door.
In the drama, the heroine doesn't have clothes, so she wears a shabby quilt. Lee recalled she had only a small dress or a quilt to wear.
Zhao's drama has been critically acclaimed and has been translated into Korean. The drama will be presented in Beijing and South Korea later this year.
"The tragedy will be repeated if we forget history. So let's remember Lee and other comfort women victims and not forget them," Zhao said.
He Na in Beijing contributed to this story.
Contact the writers at liukun@chinadaily.com.cn