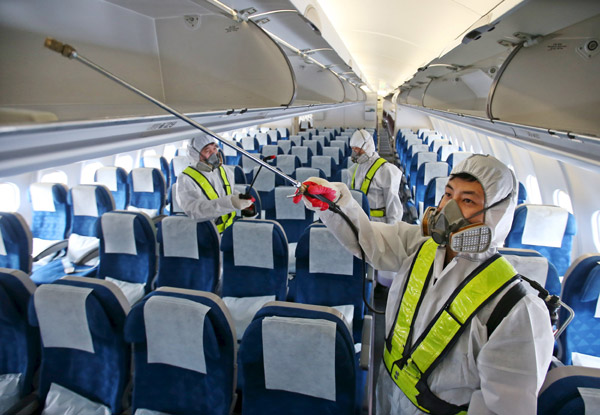 Employees from Korean Air disinfect the interior of its airplane in Incheon, South Korea, June 5, 2015. [Photo/Agencies]
BEIJING - A Chinese health official on Wednesday said the risk of Middle East Respiratory Syndrome (MERS) contracted abroad has "significantly risen" in China.
Mao Qun'an, spokesman for the National Health and Family Planning Commission (NHFPC), said at a press conference that the estimate is based on China's close exchanges with the Republic of Korea (ROK) and the Middle East, and the commission has called for high alert and scientific prevention of the disease.
The authority's current emphasis is on preventing more cases from entering the country, Mao said, adding that efforts will also be made to train medical workers in some key regions, such as in port cities, to better prepare them.
Research and vaccine development for the MERS virus are also under way in China, he said.
The official called on the public to pay greater attention to their own health and cooperate with authorities in carrying out necessary health measures.
Practicing strict medical observation of people with close contact with patients has been proven to help control the spread of the disease, and being uncooperative may cause problems to both one's own health and that of the public, the official said.
Those who have travelled to the ROK or the Middle East must consult a doctor and explain their travel experiences if they have any symptoms of the virus, he said.
The official pledged the timely release of information by the NHFPC or local authorities regarding the disease in China.
However, he also reminded the media and the public not to mistake suspected cases for confirmed ones.
Mao said the first confirmed MERS patient in China, a man from the ROK, tested positive for the virus in Guangdong on May 29 and is currently in stable condition as he slowly recovers.
At the press conference, Mao expressed China's hopes for cooperation and exchanges with the ROK and other countries in MERS prevention and control.
In response to a question on whether the mainland will issue a travel warning for tourists, the official said the decision should be left to the tourism authority, but explained that health authorities are working closely with other governmental agencies to issue precautions.
The Hong Kong Special Administrative Region Government on Tuesday issued a red Outbound Travel Alert (OTA) for the ROK in light of the MERS outbreak there.