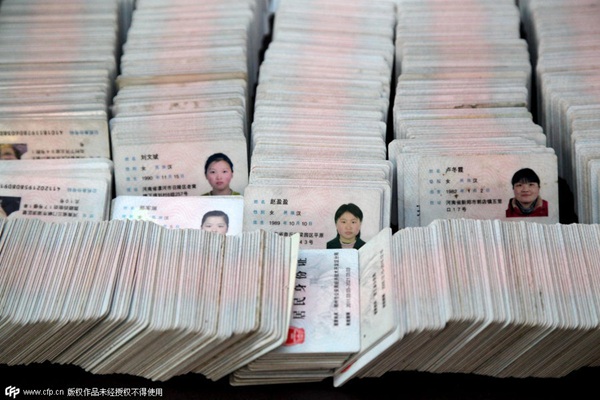 Some of the 10,000 unclaimed ID cards on display on a table of a lost-and-found company in Zhenzhou, Central China's Henan province, on Monday. [Photo/CFP]
China's Ministry of Public Security has issued its first batch of e-IDs backed by an independent, Internet-based identity recognition system for citizens, as the country moves to fight personal information leaks, the Shanghai-based Xinmin Evening News reported Sunday.
China lacks public infrastructure for Internet-based ID recognition and services, said Yan Zeming, an official with the e-ID department of the ministry's Third Research Institute. Currently, most network applications require a citizen's name and ID number for online identity certification, which is the root cause of personal information leaks.
The new system has passed security assessments by state authorities. In theory, the e-ID encryption cannot be deciphered by hackers.
In the future, citizens can use their e-IDs for online registrations and transactions, without the need to present their personal information. The same e-ID can be used for various sites and applications.
As of May, the Industrial and Commercial Bank of China had issued more than 16 million IC cards equipped with the e-ID function, the paper says. Other banks, such as the Bank of Shanghai and the China Minsheng Bank, will soon launch similar bank cards, it adds.
Pilot application of e-IDs is also being carried out in other fields, including e-commerce, social services, online law services, Internet finance, logistics and transport.