To improve English-language teaching, the British Council and Beijing Language and Culture University have started the first official teacher training program in the Chinese mainland for the International English Language Testing System, known as IELTS.
The IELTS Teacher Essentials program offers online and face-to-face training for IELTS teachers that is aimed at deepening their understanding of the test often used by universities for admission, including examination philosophy and evaluation systems.
Greg Selby, director of examinations for East Asia at the British Council, which designed the program, said the program seeks to better serve and support test takers.
"Improved IELTS teaching will mean improved candidate performance," he said, as it aims to further professionalize the test preparation sector in China in order to teach test takers "language for communication, rather than teach to the test".
More than 2.5 million IELTS tests were taken around the world in 2014, according to the British Council. Testing in China has experienced double digit growth in recent years.
The program intends to improve IELTS teachers' understanding of the test, including increasing their familiarity and understanding of the exam and test philosophy, said Ma Xiaoming, director of the overseas study training department at BLCU's College of Continuing Education.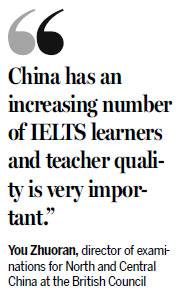 Participants are required to take at least 30 hours of independent study online, undergo more than two days of face-to-face intensive training at BLCU and take Aptis for Teachers, an English assessment system, Ma said.
The first three classes, which registered up to 25 participants, are full. The program plans to offer eight sessions in 2015.
"Based on data from the first three classes, participants are IELTS instructors from international divisions of public high schools, universities and private training centers, equally divided," Ma said.
One challenge for English-language teachers in China is that "teaching for the tests" has become popular and cheating is an issue. In October 2014, the Educational Testing Service, the examination provider of the College Board in the United States, delayed and even canceled some Chinese students' SAT score results because of alleged cheating.
The ITE program aims to instill a sense in teachers that there is value in inspiring student interest in learning beyond test techniques and skills, said You Zhuoran, director of examinations for North and Central China at the British Council.
"We are making efforts to improve IELTS teachers' quality, aiming to raise the standard in the IELTS teacher training market," You said. "China has an increasing number of IELTS learners and teacher quality is very important."