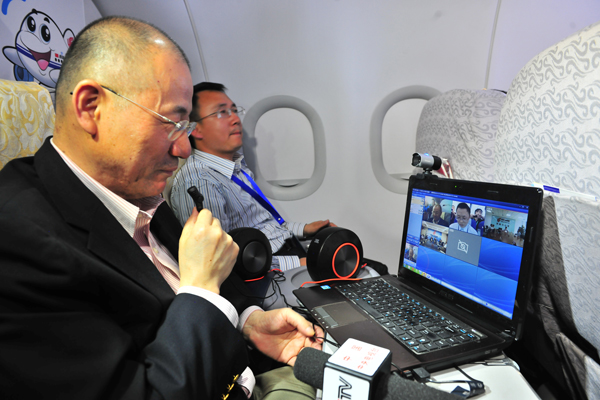 An Air China official holds an Internet conference on the airliner's flight CA4116 on April 2014. Photos by Wang Zemin for China Daily
Currently, American Airlines, Qatar Airlines and many other foreign airlines offer wi-fi services on flights, with charges ranging from several US dollars to over twenty dollars.
However, Zhang Chi with China Eastern Airlines says their service charges are expected to be free.
"Through wifi access, we will offer a variety of internet services which are free for passengers. The service charges will be shared and paid by the airline and its business partners. We have collaborated with China Union Pay for passengers on the plane to make real-time payment through a cloud platform, which is a breakthrough for online shopping during flights."
With the commercialization of the service, passengers on plane can also enjoy a wide range of duty-free goods.
Experts predict the Wi-Fi service could bring about new business opportunities, especially in social media and data services.
Last year, around 390 million domestic Chinese passengers took flights and spent 1 billion hours in the air.