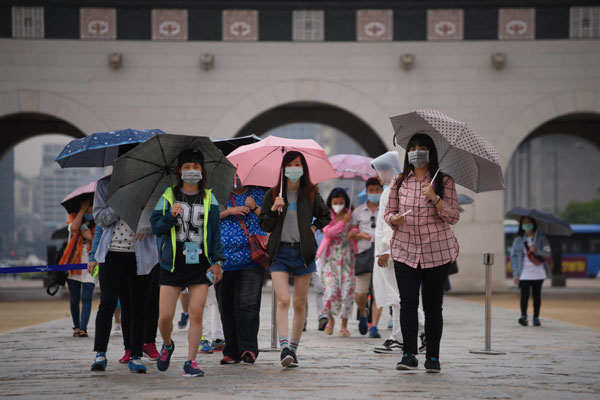 A group of Chinese tourists wearing face masks enter Gyeongbokgung Palace in Seoul on Friday after more cases of Middle East respiratory syndrome were reported in South Korea. ED JONES/AGENCE FRANCE-PRESSE
Companies scramble to offer alternatives, including discounts, other destinations As the number of cases-and deaths-from Middle East respiratory syndrome continues to rise in South Korea, travel agencies in China are facing increasing numbers of customers who want to cancel their trips there.
Forty-one South Koreans have now tested positive for MERS and deaths increased to four on Friday, the country's Health Ministry said.
China's National Tourism Administration has not issued a travel warning yet, but the Foreign Ministry's consular department has cautioned Chinese contemplating visits to South Korea to pay close attention.
The Republic of Korea's Tourism Organization said some 4,400 tourists from the Chinese mainland, Hong Kong and Taiwan had canceled their Korea trips as of Thursday.
Experts predicted the number will continue to rise nationwide.
Sun Lichan, director of marketing for Haitao Travel, said more than 50 percent of the customers who ordered trips to the ROK have requested cancellations.
"To address their demands, we have worked out three solutions," she said. "For those who want to cancel a trip, we will give them an unconditional refund. For those who still want to travel abroad, we will help them to switch to Japan or other nearby countries. And for those who still prefer South Korea, trips will depart as scheduled, but we will spare no effort to be better equipped-for example, handing out masks-and we will try to avoid crowded places."
"South Korea is one of the largest foreign destinations for Chinese tourists. As our trips are all chartered flights, the large number of refunds has resulted in a big loss," she said.
Ctrip, China's largest online travel agency, said it received some cancellation requests, but not many.
"Tourists who are in South Korea now want to end the trip and come back early," said Chen Caiyin of the public affairs department.
Customers should pay some penalty for a cancellation, as there has been no notice issued by the National Tourism Administration, Chen said.
In Harbin, Heilongjiang province, some travel agencies have lowered their fees by almost 1,000 yuan ($160) to prop up the numbers.
Ji Chunlei, manager of the Beitang district office of China Comfort Travel's branch in Wuxi, Jiangsu province, said people are asking to withdraw from booked tours to the ROK daily, but things haven't really changed in the country.
"Our guides say the travel market there is normal. We hope the National Tourism Administration will make an official statement about travel to the ROK, or else the market may be further influenced."
More than 700 ROK schools, from kindergartens to colleges, have shut their doors in response to public fears over what has become the largest outbreak of MERS outside Saudi Arabia, Xinhua News Agency reported.
China's first confirmed MERS patient remained in serious condition, the Health and Family Planning Commission of Guangdong province said on Thursday.
A man from the ROK tested positive for MERS in Guangdong last week. All of the 78 people who had close contact with him have been found and quarantined, it said.
Cang Wei in Wuxi and Su Zhou in Beijing contributed to this story.