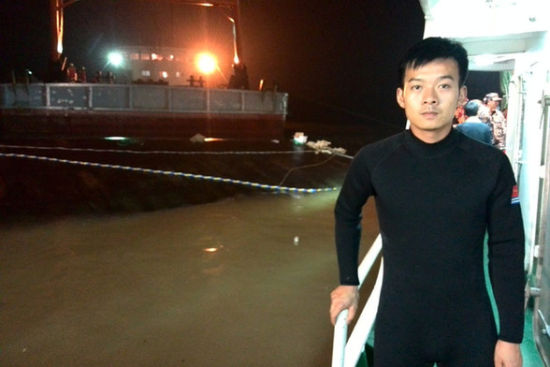 Diver Guan Dong at the site, June 2. [Photo/Xiong Feng]
Three rescue divers have been awarded at the bank of Yangtze River near the ship sinking site by Naval University of Engineering, PLA because of their excellence in the operation.
Diver Guan Dong was the first to go under the water. He found an old woman in the cabin and helped her put on the diving gear. Twenty minutes later, the woman was successfully rescued.
The second one Guan found was a sailor but he was too shocked to even move. Guan decided to stay there with him for a while and kept talking to hime to ease the man's mind.
"The diver told me not to worry. At that moment, I saw a silver lining," said the sailor Chen Shuhan.
"There was diesel in the cabin, and when it meets water, it can be unpleasant to the eyes and makes breathing difficult. I thought he will not be able to bear that so I took off my oxygen mask and gave it to him," Guan added.
As the passage to the surface was too narrow, Guan let the other divers go first. But when he tried to get out of the water, he found his oxygen reached at its lowest level. His nose began to bleed. He quickly unloaded his lead and got out of the water.
"I really want to thank them,they gave me a second life," Chen said.
Guan was awarded the first-class merit and the other two divers Xie Qifeng and Shi Baiyan were awarded second and third-class merit for salvaging victims.