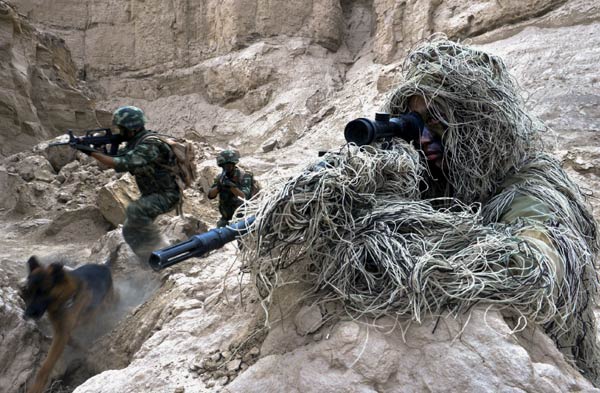 Task forces conduct a raid during a drill in Kashgar, Xinjiang. Ke Dawei / Xinhua
China is strengthening border surveillance and improving international cooperation to prevent jihadists and extremists from traveling to war zones overseas, report He Na in Nanning and Zhang Yan in Beijing.
China faces a growing threat from terrorism, especially from extremists who have participated in the Syrian conflict but have now returned and are planning domestic attacks, according to an official from the Department of Counterterrorism at the Public Security Ministry.
The department said about 300 Chinese extremists have fought in Syria, and although most are members of the Syrian branch of the Eastern Turkestan Islamic Movement, or ETIM, a small number have joined other terrorist and extremist organizations.
"The information about each individual is still being checked, as the situations in Syria and Iraq are very complicated," said the official, who declined to be identified.
So far, about 10,000 terrorists and extremists from more than 80 countries have poured into Syria, he said. "These returned extremists, who hold extreme views and are equipped with the experience and skills they gained in Syria, have become the most realistic and pressing terrorist threat facing the international community."