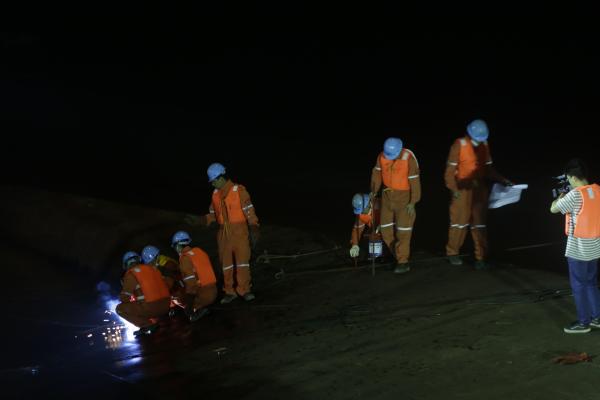 Xinhua reports the cutting work is continuing. Rescuers will create a 55cm-60cm opening on the ship's bottom for divers to gain access. [Photo/thepaper.cn]
BEIJING -- Rescue workers are cutting into the hull of a cruise ship that capsized late on Monday, in an escalated effort to find survivors from more than 400 people believed to have been trapped inside.
The Eastern Star disaster in the Yangtze River could become China's deadliest shipping accident in almost seven decades. Over 450 people were onboard the ship when it sank on Monday night after being hit by a tornado in Jianli, Hubei province.
Rescuers have only found 14 survivors, and so far have retrieved 26 bodies, leaving over 400 people still unaccounted for.
According to Li Qixiu of the Naval University of Engineering, the bottom of Eastern Star will be cut open while the hull is lifted using steel cables.
"The ship sank in a very short time frame, so there could still be air trapped in the hull," Li told Xinhua over telephone, "and that means there could still be survivors."
The real trick is how the vessel will be held steady to prevent it from sinking further during the operation. The escape of any air trapped in the hull could cause the ship to lose what buoyancy it has and sink deeper into the water, he said.
Li said divers have managed to attach the steel cables to the hull and the plan is to support the ship with cranes while rescuers search inside.
The engineering expert warned over the inevitable thinning of air in a closed space over time where people are breathing, adding that "the longer it takes, the less likely we are able to find survivors."
"We are racing against time, but will never going to give up," he said.